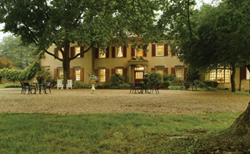 Glenholme became our son's community and while he is there, he is doing the things he is supposed to do. He is playing sports, acting in a play, making friends, and learning. ~a Glenholme parent
Washington, Connecticut (PRWEB) March 29, 2016
In just a few days, the calendar will turn and the nation will welcome April and with it, Autism Awareness Month. It is a remarkable time as autism captures a great deal of media attention during April and it is making a difference. For 2016, the aim is to not only spread awareness for autism and but also to promote inclusion and acceptance in the classroom, the community, and beyond. Inclusion and acceptance are the quintessence of Glenholme.
At Glenholme, all students are encouraged to join activities which were previously inaccessible to them in traditional schools. Through an incisively designed program, Glenholme students are afforded an inclusive, comprehensive educational experience packed with a plethora of instructive, imaginative, recreational, and social activities.
While inclusion is everyone's to offer, the students and families of Glenholme understand the impact inclusion has. With nearly 50 years of service to students on the spectrum and with learning differences, the inclusive program has positively affected the lives of thousands of young people.
With 26 years since its inception, the awareness for young people on the spectrum is more evident than ever. In recent years, the United Nation's dedicated Autism Awareness Day, April 2nd, was adopted for the "Light It Up Blue" campaign, which creates a global phenomenon where landmarks and monuments around the world are bathed in blue light in an effort to help raise awareness for autism and those affected by it.
Awareness for the needs of effective and accountable services for young people on the spectrum is not just a community concern, it is a global interest. Glenholme has been involved with the international effort since 2008, when Maryann Campbell, Glenholme's executive director, attended the inaugural World Autism Awareness Day Celebration at the United Nation. The campaign emphasizes the challenges faced by millions on the spectrum and their families, how much more must to be done to fathom the depths of this disorder and, more importantly, the hope the international response gives to families. As part of this endeavor to build awareness and change lives, The Glenholme School strives to provide quality programs and services in which young people with autism spectrum disorders can overcome their challenges and realize their strengths, talents and ability and learn to lead successful independent lives.
About The Glenholme School:
The Glenholme School, a center of the Devereux organization, is a not-for-profit 501(c)(3) therapeutic boarding and school for young people with high functioning autism spectrum disorders including Asperger's; ADHD, OCD, Tourette's, depression, anxiety, and various learning differences. The program provides a treatment milieu designed to build competence socially and academically. Our learning environment supports and enhances the ability for young people with special needs to succeed. Devereux is a leading nonprofit behavioral health organization that supports many of the most underserved and vulnerable members of our communities. For more information about The Glenholme School and its program, visit http://www.theglenholmeschool.org/home.