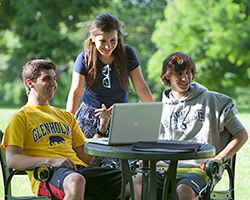 Noah started in the Summer Program which made it easier to move into the fall. The support here is tremendous. It's like a big family. It's been as good for us as it's been for him. - a Glenholme parent
Washington, Connecticut (PRWEB) February 24, 2016
The Glenholme School, an independent, coeducational, special needs boarding and day school for students with high functioning autism spectrum disorders, compulsive behaviors, depression, anxiety and various learning differences, opens enrollment to its 2016 Summer Program. Since 1968, students from around the world have traveled to Glenholme's picturesque location in Washington, Connecticut to find academic and social success — possibly for the first time — through the school's unique educational environment.
A successful school year starts with a successful summer — especially for students with special needs. Glenholme's Summer Program boasts an exceptional educational and enrichment opportunity in which students can catch up on credits or get a jump start on their next school year —academically and socially. The summer sessions at Glenholme provide greater personalized academic instruction in extended periods of small class sizes by experienced special educators. While English and Mathematics are the central focus for most summer students, some may be enrolled in one of the many available on-line learning courses.
During summer afternoons and evenings, there is dedicated time for recreational opportunities and instructional activities emphasizing social skill development. The program offers a wide array of community activities including go karts, horseback riding, music, performing arts, dance, recording studio, physical fitness, and team athletics. Students will experience a healthy balance of structured time and autonomy, as they learn to get along with a new group of peers, how to advocate appropriately for assistance, and develop a newfound sense of independence.
From July 11 through August 26, young people, ages 10 to 18 entering grades 5 through 12, can chose from three enrollment options: Session One in July is three weeks, Session Two in August is four weeks, and the Full Summer Session runs for seven weeks. Through it all, young people at Glenholme build new friendships, improve confidence, and hone their academic and social skills in the Summer Program. Through active participating in a positive and nurturing school setting, students experience a sense of community and belonging — a fundamental aspect of each child's development.
Fully accredited by the New England Association of Schools and Colleges, The Glenholme School provides a comprehensive curriculum, encompassing college preparatory and career development courses, for students of all ability levels which results in a high school diploma.
For more information, visit The Glenholme School Summer Program website at http://www.glenholmesummerprogram.org/
About The Glenholme School:
The Glenholme School, a center of the Devereux organization, is an independent, co-educational, special needs boarding and day school for young people with high functioning autism spectrum disorders including Asperger's; ADHD, PDD, OCD, Tourette's, depression, anxiety, and various learning differences. The program provides a treatment milieu designed to build competence socially and academically. Our learning environment supports and enhances the ability for young people with special needs to succeed. Devereux is a leading nonprofit behavioral health organization that supports many of the most underserved and vulnerable members of our communities. For more information about The Glenholme School and its program, visit http://www.theglenholmeschool.org/.