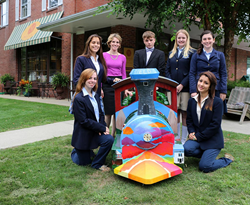 Students get an opportunity to shine here at The Glenholme School.
Washington, CT (PRWEB) January 06, 2015
The Glenholme School, a therapeutic boarding school for young people with high functioning autism spectrum disorders and various learning differences, apprizes the significance of fostering creativity for student development and success. Artistic expression is embraced, appreciated, and encouraged at Glenholme and International Creativity Month offers a magnificent reminder to celebrate the power and importance of creativity — and also to capitalize on it.
At Glenholme, there is a strong focus on providing a comprehensive and integrated arts experience to students. The visual arts program offers a variety of artistic methods as a means to promote self-confidence and personal expression. Students gain confidence in their abilities by putting personal ideas, emotions, experiences and questions into visual forms of expression.
Among the many opportunities for artistic growth and expression available throughout the year, the gifted students of Glenholme participated in a distinguished collaboration with All Aboard! Litchfield County. The goal of the venture was to foster tourism and to inspire a strong sense of community while raising funds for KidsPlay Museum and Northwest Connecticut Chamber Education Foundation in Torrington, Connecticut.
Students and their art teacher worked diligently each day throughout the summer months to design and transform a five feet long and three feet high blank white fiberglass-polyester resin form into their artistic masterpiece. The train was aptly dubbed "A Ride Through the Countryside" for its intricate depictions of several Litchfield County area landscapes. Once completed, the Glenholme train was stationed outside Marty's Café in Washington Depot as part of the tourism-boosting scavenger hunt during September and October.
The project concluded marvelously on November 1, 2014, when train-enthusiasts bid for and won their favorite train in a live auction; an effort which raised well over $60,000 for two commendable causes. It was the third time the students of Glenholme participated in this inspirational fundraising effort. On two previous occasions, the school sponsored a fiberglass-polyester resin bear, which students brought to life with similar success.
One of the Glenholme student involved in the train endeavor noted, "The All Aboard! train project was an exciting effort in which a strong group of dedicated and hardworking artists and our teacher were deeply expressive about our community for a worthy cause. Our train is stationed on campus alongside the bears as a reminder of the benefits of combining creativity and hard work with community service."
Arts instructors are also very passionate about their work with students at Glenholme. One instructor recently noted, "Students get an opportunity to shine here at The Glenholme School. They get to be expressive and explore who they are while discovering different facets of humanity and sharing their artistic nature with their peers. The growth that I have seen in student's confidence is just astounding."
The Glenholme visual arts program is an essential part in each student's daily life at school. Students learn and develop leadership and social skills as they bring their imaginations to life through the many arts activities. The ALL ABOARD!! Litchfield County dovetails well with the mission of the Glenholme arts program and community service efforts, as well as the school's 20-year history as a leader in character education.
About The Glenholme School:
The Glenholme School, a center of the Devereux organization, is a not-for-profit 501(c)(3) therapeutic boarding school for young people with high functioning autism spectrum disorders including Asperger's; ADHD, PDD, OCD, Tourette's, depression, anxiety, and various learning differences. The school provides a treatment program designed to build competence socially and academically. Our learning environment supports and enhances the ability for young people with special needs to succeed. Devereux is a leading nonprofit behavioral health organization that supports many of the most underserved and vulnerable members of our communities. For more information about The Glenholme School and its program, visit http://www.theglenholmeschool.org/home. Devereux Connecticut.