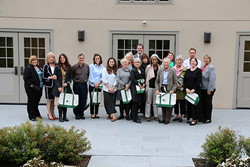 The greatest measure of success is always the students...their smiles, their projected confidence and their support for one another. I was impressed with all I saw and heard. Thank you all for your most valuable time.
Washington, Connecticut (PRWEB) October 20, 2015
The Glenholme School, an independent, coeducational, special needs boarding school in Washington, Connecticut welcomed thirteen educational consultants from around the country, as part of a week-long tour of New England schools for special needs students. Staff and students worked together to provide a glimpse of student life and success at Glenholme — all in just a few short hours.
Wednesday, September 30 provided a threatening overcast day for the educational consultant visit, which began with an introduction about the school's comprehensive therapeutic model, and vast opportunities available to students. After the school presentation, a working lunch ensued on topics of academics, social development and regional questions about New England. The rain held out and all enjoyed a walking tour, met faculty, and spoke with the student panel. During their campus tour, they visited cottages, the music department, the Commons —school's student-run café which is a main focus of the culinary program, and the schoolhouse. Admissions staff also imparted information on the go-kart track, the swimming pool, athletics opportunities, the equestrian program, the after school-enrichment courses, and the summer and transition programs.
The visit wrapped up with a discussion in The Center for the Arts. During which, the principal, Sharon Murphy spoke about the operations of the educational program. The consultants were afforded ample time to question a student panel. Students provided their own personal accounts and experiences at the school. Key to the discussion was when students highlighted how they benefited from the school's Token Economy system and the manner in which Glenholme differs from their previous placements.
The impression that the thirteen consultants took with them is that students feel part of an accepting school community. One in which they are able to enjoy new friendships along with supportive faculty and strengthen their independent living skills, improve their academics gearing them for a positive future.
About The Glenholme School:
The Glenholme School, a center of the Devereux organization, is an independent, coeducational, special needs boarding and day school for young people with high functioning autism spectrum disorders, ADHD, OCD, Tourette's, depression, anxiety, and various learning differences. The program provides a treatment milieu designed to build competence socially and academically. Our learning environment supports and enhances the ability for young people with special needs to succeed. Devereux is a leading nonprofit behavioral health organization that supports many of the most underserved and vulnerable members of our communities. For more information about The Glenholme School and its program, visit http://www.theglenholmeschool.org/.