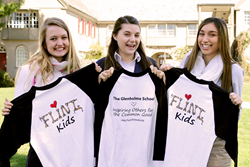 It feels good to help others, especially kids. ~ a Glenholme student
Washington, Connecticut (PRWEB) November 17, 2016
The water crisis in Flint, Michigan, highlights the enormous challenges faced by children and families all around the world and at home. The Glenholme School, a special needs boarding and day school recognizes the philanthropic and educational opportunities abound in such situations. At Glenholme, students worked industriously to raise awareness and funds to support the children of Flint and their families.
Students embarked upon research projects throughout the academic community — studying about Flint's water supply, the reasons for its toxicity and what can be done to correct it. One student, Sammi, decided to incorporate Flint into an exercise for an on-line learning course, Kindergarten Apprentice Teaching. In late March, she presented a lesson on water pollution to a class of middle schoolers. Her students expressed an indomitable interest in sharing acts of kindness with children of Flint. With this particular motivation, each one created a small card with compassionate and encouraging words, which Sammi and her teacher mailed to FlintKids.org..
In the weeks that followed, Glenholme introduced its community-wide effort to support Flint and assist in providing much needed funds for projects delivering healthy drinking water. In the school's student-operated café, The Commons, all liquids including soups, soda and water, were sold with a fundraising surcharge and every two months, the school has been able to send funds to FlintKids.org. Additionally, students and staff designed a t-shirt combined with special messages for a fundraiser. During the school's largest campus-wide event, Parents' Weekend in May, families and friends generously contributed to the cause by purchasing t-shirts.
Collectively, the donated funds from Glenholme for FlintKids.org have reached $2,042.00 and the school aims to continue the endeavor until the restoration of a healthy water supply to the Flint community is complete. If you would like to support the cause with The Glenholme School, just go to http://www.theglenholmeschool.org/students-of-the-glenholme-school-help-flint-kids/.
About The Glenholme School:
Devereux Advanced Behavioral Health— The Glenholme School is an independent, coeducational, special needs boarding and day school for young people with high functioning autism spectrum disorders, ADHD, OCD, Tourette, depression, anxiety, and various learning differences. The program provides a treatment milieu designed to build competence socially and academically. Our learning environment supports and enhances the ability for young people with special needs to succeed. Devereux Advanced Behavioral Health is a leading nonprofit behavioral health organization that supports many of the most vulnerable members of our society. For more information about The Glenholme School and its program, visit http://www.theglenholmeschool.org/.