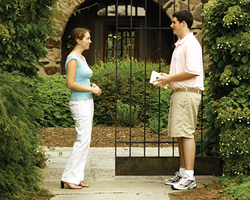 It is truly heartwarming to see her incredible progress and to know that she found her way to such an effective and nurturing environment. I cannot remember being more proud of any student than I was of Anna..."
Washington, Connecticut (PRWEB) March 10, 2015
Social Worker Appreciation Month, which kicked off on March 1, prompts our nation to praise the commendable profession of social work and the individuals who choose the noble path of offering hope and support to others. At The Glenholme School, a therapeutic boarding school for students with special needs, the community celebrates the success of its vibrant group of social workers and the school's Individualized Therapy program. Collectively, they make a difference everyday by guiding young people to think, dream and achieve in new unforeseeable ways.
The Individualized Therapy program at Glenholme employs a carefully designed approach to fostering the social skills development of students affected by high functioning autism, ADHD, anxiety and other behavioral, learning and social challenges. Vast amounts of research guided and supported the development of the program, which bridges the gap between traditional role-playing therapy and real life application of skills.
Most students who attend Glenholme have received years of traditional therapy with limited success and a sizeable percentage lack the positive skills that allow social acceptance in traditional school settings. Recognizing this, the Glenholme clinical team designed a program to specifically meet the unique needs of the school's student population.
Traditional therapy often addresses deficits through frequently modeling skills and role-play scenarios. Using this method, a student with social deficits will often learn these skills one-on-one with a preferred adult, yet fail to apply them in other settings, particularly when faced with challenging situations.
At Glenholme, the success of Individualized Therapy is found in incorporating individualized sessions and In-Vivo sessions. Individual, or teaching, sessions are one-on-one between student and social worker in which they identify the situations where the student is most likely to have difficulty, the circumstances that may be maintaining that behavior, and determine alternative responses to these situations which will meet the student's needs. Through the processes of problem-solving and role-playing with their social worker, the student will identify and begin to practice more adaptive coping skills.
In the In-Vivo, or "real life coaching," sessions students begin learning and generalizing the skills they have learned in individual sessions and apply them to the settings where they are most needed, their own environment. These "real life" settings include school, peers, and teachers; residences and roommates; home and family; and more. In each session, the social worker works closely with the student, offers cues, and follows with constructive feedback.
The family is also incorporated into the program. During family sessions, the social worker reviews the techniques with parents and teaches them how to use them with their child. This has been a highly effective approach which also encourages parent participation in the treatment process.
Students receiving In-Vivo session are achieving more of their treatment plan goals. The Individualized Therapy program at The Glenholme School uses a service delivery method that makes a great deal of intuitive sense, which is particularly beneficial for students with social skills deficits. Parents, educational consultants and funding sources have been impressed with the program's ability to assist students in this way.
A representative of one school district recently wrote, "I must thank you for letting me visit Anna at Glenholme. It is truly heartwarming to see her incredible progress and to know that she found her way to such an effective and nurturing environment. I cannot remember being more proud of any student than I was of Anna during our conversation."
The social workers of The Glenholme School embody the official theme for Social Worker Appreciation Month 2015, "Social Work Paves the Way for Change." Through their diligent and caring methods, the Individualized Therapy program delivers long term results which manifest in the real world and changes lives of young people with learning differences.
About The Glenholme School:
The Glenholme School, a center of the Devereux organization, is a not-for-profit 501(c)(3) therapeutic boarding school for young people with high functioning Autism Spectrum Disorders including Asperger's; ADHD, OCD, Tourette's, depression, anxiety, and various learning differences. The program provides a treatment milieu designed to build competence socially and academically. Our learning environment supports and enhances the ability for young people with special needs to succeed. Devereux is a leading nonprofit behavioral health organization that supports many of the most underserved and vulnerable members of our communities. For more information about The Glenholme School and its program, visit http://www.theglenholmeschool.org/home/.