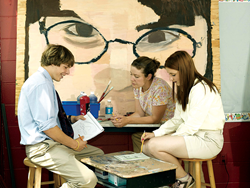 Our son is one of Glenholme's many success stories. What Glenholme gave us was a community of supportive staff who understood our concerns and helped guide our son towards understanding what was acceptable behavior even when anxious or stressed.
Washington, Connecticut (PRWEB) May 27, 2015
This year, Mental Health America (MHA) is promoting their "B4Stage4" mental health awareness campaign and encouraging those affected to seek assistance before a crisis occurs. According to National Alliance on Mental Health (NAMI), one in five children, ages 13 to 18, are living with or will develop a mental illness. Additionally, 50% of all cases of mental illness within one's lifetime will begin by age 14. As MHA is suggesting, it is essential to seek help before reaching a critical stage — particularly for young people.
As one of the nation's most comprehensive therapeutic boarding schools, The Glenholme School understands that a healthy mental status is fundamental to each young person's wellbeing and essential to his or her learning and success. What sets Glenholme apart from other schools is the evidence-based, consistent, and structured teaching and coaching lifestyle which assists students with developing appropriate coping mechanisms and replacement behaviors for those dealing with anxiety, high functioning autism spectrum disorders, compulsive behaviors, learning differences, and other forms of social challenges and deficits.
At Glenholme, the therapeutic milieu is designed to offer opportunities for treatment and socialization that positively influence the success of students. The skills that the social workers and clinical staff teach all students within the first weeks of their enrollment are designed to help them develop the awareness and skills essential to moderate their behaviors — which are, in many cases, related to anxiety. Ultimately through routine practice and encouragement, students are able to lessen their baseline levels of anxiety and their physiological reactivity to stimuli.
The program at Glenholme incorporates a wide variety of instructional extracurricular activities that creatively engage students and promote growth by capitalizing on each student's strengths. These activities include culinary, equestrian, fine and performing arts, community service, interscholastic athletics, animal-assisted therapy, and more. The creative engagement of students further influences the reduction of problematic behaviors and affords more opportunities for reinforcement of appropriate behaviors. Subsequently, students become more available for learning, as well as for positive growth and development — all of which are essential for success.
As Mental Health Awareness Month draws to a close, it is important for everyone to be proactive — now and into the future— by learning more about mental health conditions and challenges as well as the warning signs and encourage those affected to seek help. For more information, visit http://www.nami.org/Learn-More.
About The Glenholme School:
The Glenholme School, a center of the Devereux organization, is a not-for-profit 501(c)(3), coeducational, therapeutic boarding school for young people with high functioning autism spectrum disorders, ADHD,OCD, Tourette's, depression, anxiety, and various learning differences. The program provides a treatment milieu designed to build competence socially and academically. Our learning environment supports and enhances the ability for young people with special needs to succeed. Devereux is a leading nonprofit behavioral health organization that supports many of the most underserved and vulnerable members of our communities. For more information about The Glenholme School and its program, visit http://www.theglenholmeschool.org/home/.