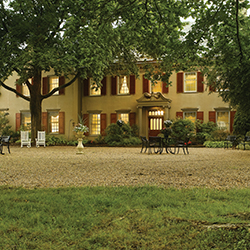 As Glenholme parents and long-time members of the Advisory Board, we are very proud of our son, but also grateful of the work Glenholme continues to do every day to help its students grow and reach their potential in the world today.
Washington, CT (PRWEB) October 08, 2014
After two years of self-study and reporting, The Glenholme School, a therapeutic boarding school for students with special learning needs in Washington, Connecticut, earned reaccreditation from the New England Association of Schools and Colleges (NEASC).
Accreditation for all schools across the nation has been a long-standing inspiration for educational improvement. For the student, and their family, accreditation offers assurance that the program in which the student is enrolled or are considering enrolling is involved in continuous review and improvement of its quality, that it meets endorsed standards in the profession, and that it is accountable for accomplishing what it sets out to do.
Through the self-study process, Glenholme administration and faculty recognized four areas for concentration and direction to enhance opportunities for students, which the NEASC Commission approved. The areas include alignment with the newly expanded mission, increased opportunities in line with the new mission, greater responsibilities and increased independence for highest achieving students, and further development of a comprehensive English Language Learner (ELL) program.
In their official message to the school, the Commission commended the entire school community for its "beautifully maintained facilities that offer a wide variety of spaces to enhance academic, living, social, creative, and recreational activities."
They continued, "The Commission commends the staff, faculty, and administrative teams for their commitment to students, collegial and supportive culture, and the strong sense of professionalism; and the school for its thriving creative and performing arts programs, highlighted by the performing arts center, music center, art studio, dance studio and other spaces dedicated to student expression."
The Glenholme School prides itself on its enduring commitment to self-regulation, self-improvement and peer review. In addition to being accredited by NEASC with diploma granting privileges, The Glenholme School it is also licensed by several states including Connecticut, California, Illinois, Massachusetts, New Jersey, and New York. The process of accreditation with NEASC goes beyone the traditional state licensing process by bringing educators together and providing an opportunity for sincere, impartial and comprehensive assessments which are carried out and completed with the utmost integrity.
Founded in 1885, the New England Association of Schools & Colleges, Inc. (NEASC), is the country's oldest regional accrediting association whose mission is the establishment and maintenance of high standards for all levels of education, from pre-K to the doctoral level. NEASC serves more than 2,000 public and independent schools, colleges and universities in the six states of Connecticut, Maine, Massachusetts, New Hampshire, Rhode Island, Vermont, and American/international schools in more than 67 nations worldwide.
About The Glenholme School:
The Glenholme School, a center of the Devereux organization, is a therapeutic boarding school for young people with high functioning autism spectrum disorders including Asperger's; ADHD, PDD, OCD, Tourette's, depression, anxiety, and various learning differences. The program provides a treatment milieu designed to help students become competent, socially and academically. The goal of the school is to prepare graduates for post-secondary college and career opportunities. For more information about The Glenholme School and its program, visit the website at http://www.theglenholmeschool.org.