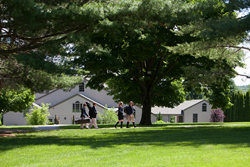 Each of us chose Glenholme, as much as Glenholme chose us. This is where we need to be. ~ Marc, a Glenholme student.
Washington, Connecticut (PRWEB) January 14, 2016
As millions of people across the nation prepare to join in the thousands of National School Choice Week events, The Glenholme School, an independent, coeducational boarding and day school, emphasizes the power and importance choice has for families seeking effective education for young people with special needs.
Choice is an indispensable tool in building a promising future. In many instances, it is central to obtaining the best education for young people with special needs. For nearly 50 years, The Glenholme School has remained the choice school for families, educational advocates and consultants, as well as public schools to provide quality educational services to students with high functioning autism spectrum disorders, ADHD, OCD, Tourette, depression, anxiety and various learning difference.
In a school event, Glenholme Executive Director Maryann Campbell passionately expressed, "It may be overstated, but children are the future. They may make huge changes in the world, or just big changes in the lives of their family and friends. There is no scale, no weight, or measure for what a child will do as an adult. Collectively, our job as educators and parents is to see they are ready."
Parents who enroll their children in Glenholme understand and value the power choice plays in determining their child's educational success and future. Barbara Feeney, Glenholme Development Board Co-Chair, relayed this message at a recent school benefit, "As board members and parents of children with special needs, we have personally witnessed the positive, indelible impact that Glenholme can have on a child— and on an entire family. There are fewer and fewer schools in the United States that serve children with special needs, let alone provide services that deliver the level of success that Glenholme does. Each year, Glenholme teaches young people the skills they need to transform their lives and live independently in this world. Glenholme is the right choice."
National School Choice Week, January 24-30, 2016, is an independent public awareness effort. It provides a useful platform for Americans to unite in favor of greater school options. For more information, visit http://www.schoolchoiceweek.com.
About The Glenholme School:
The Glenholme School, a center of the Devereux organization, is an independent, co-educational, special needs boarding and day school for young people with high functioning autism spectrum disorders including Asperger's; ADHD, PDD, OCD, Tourette's, depression, anxiety, and various learning differences. The program provides a treatment milieu designed to build competence socially and academically. Our learning environment supports and enhances the ability for young people with special needs to succeed. Devereux is a leading nonprofit behavioral health organization that supports many of the most underserved and vulnerable members of our communities. For more information about The Glenholme School and its program, visit http://www.theglenholmeschool.org/.