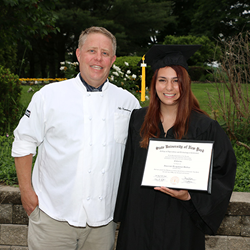 The support and guidance I received was really remarkable. Today, I am a college graduate. Thank you, Glenholme.
Washington, Connecticut (PRWEB) December 02, 2014
On December 2, the tenth anniversary of our nation's Special Education Day, we are reminded to celebrate and honor the progress of students with special needs, as well as their parents, teachers and schools. At The Glenholme School, a therapeutic boarding school for special needs students, teachers are blessed to work with unique and extraordinary young people and help them find their personal pathway to a productive and meaningful life.
For over 45 years, young people at Glenholme make truly remarkable accomplishments. Recently, one Glenholme alumna graduated from SUNY: College of Agricultural and Technology at Cobelskill with an Associate Degree in Culinary Arts.
Maggie, who has significant academic challenges and difficulties advocating, attended a large public high school which lacked the supportive services she needed to be successful. Self-conscious, frustrated and frequently defeated, Maggie struggled each day in public school. Despite her hard work, she perpetually fell behind. Seeing little likelihood for improvement, Maggie's mom fought for better services. After visiting a long list of supportive private schools, the funding school district, Maggie and her mom decided Glenholme was Maggie's best chance for success.
In 2010, the timid and quiet Maggie enrolled at Glenholme as a junior. For her first year, she attended Glenholme as a day student, which was difficult for her. The hour-long commute left her with little academic supports and limited social opportunities after school. Before long, the staff developed a functional behavioral plan and strategies to help Maggie understand her learning style, as well as methods to help her build confidence, manage frustrations, and learn advocacy skills. Through the positive motivational program, Maggie was able to develop strong, trusting relationships with her teachers. These relationships helped her to be more open to taking academic risks. After several months, Maggie became an extended day student, which allowed her to join chorus and within the year she transformed from a shy stage and school presence into a confident performer and student.
While the arts helped Maggie build confidence, the culinary program cultivated her professional dream of becoming a baker. Recognizing her determination, the instructor worked with Maggie on special projects, all the while challenging her mathematical skills and helping her develop self-assurance not only in the culinary program but academically as well.
In her second year, Maggie was fortunate to enroll as a boarding student — that is when she really began to blossom. Instead of the evening isolation, Maggie found a strong and supportive peer group and quickly became active in culinary, equestrian, sports, community service, and theater arts. Each day, Maggie became more poised and comfortable with her abilities. By May of 2012, Maggie was recognized numerous times for her academics and character; she was even elected prom queen by her peers. When she graduated in June, Maggie was well prepared for her next challenge: obtaining a college degree in the culinary arts.
On June 9, 2014, Maggie returned to Glenholme to celebrate her success with the teachers that helped to guide her to her dreams. She detailed her efforts at SUNY which included learning from some of the world's most famous chefs abroad and working as a paid intern in a local bake shop. Maggie continues her culinary education today with programs in New York City and France.
Maggie's mother expressed her gratitude, "The summer before Maggie enrolled in college, Maggie and I attended a seminar provided by the SUNY support services office. In which we learned Maggie—and only Maggie— would have to advocate for herself and I said to myself, 'Thank god she went to Glenholme.'"
When asked how Glenholme helped prepare her for college, Maggie noted, "The support and guidance that I received at Glenholme was really remarkable. The skills I developed in advocacy and the academic strategies I learned were highly effective when I went off to SUNY. I knew what I needed to be a successful student. I employed those skills and knowledge. And today, I am a college graduate. Thank you, Glenholme."
About The Glenholme School:
The Glenholme School, a center of the Devereux organization, is a not-for-profit 501(c)(3) therapeutic boarding school for young people with high functioning autism spectrum disorders,ADHD, PDD, OCD, Tourette's, depression, anxiety, and various learning differences. The program provides a treatment milieu designed to help students build competence socially and academically. Devereux is a leading nonprofit behavioral health organization that supports many of the most underserved and vulnerable members of our communities. For more information about The Glenholme School, visit http://www.theglenholmeschool.org/. Devereux Connecticut.