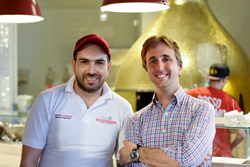 This is a time to help every child we possibly can to benefit from the incredible gift that Glenholme has to offer these kids. I can't think of a better excuse to fly across the country for a dinner. Let's all give generously! ~ a Glenholme Parent
Washington, Connecticut (PRWEB) June 27, 2017
Quattro Mani, an impressive series of pizza-pairing events, is well underway at Eataly Chicago. The series spotlights top chefs and well-known members of the Chicago food community acting as pizza-makers for one day. When patrons visit Eataly Chicago on Tuesday nights to indulge in the pizza made by that day's host combined with a counterpart pizza from Eataly's pizzaiolo, a portion of the paired pizza purchases are donated to a charity of the featured chef's choosing. The Glenholme School is delighted to be named Chef Bradley Stellings' charity of choice for his July 4th Quattro Mani venture.
A magnificent supporter of The Glenholme School, Chef Bradley Stellings will once again use his culinary genius to benefit students with special needs. His first contribution to the school was in the fall of 2015. Chef Stellings offered an exclusive in-home dinner party as part of the Manhattan auction and benefit to help fund the school's scholarship. His culinary genius and impressive professional proficiency stemming from experience at Nobu57, Adour Alain Ducasse, and Public in New York City, as well as several appearances on the Food Network's hit series "Iron Chef America" and "Chopped," made his auction item an once-in-a-lifetime opportunity and fetched a tidy sum for the school's scholarship fund.
Now the executive chef at The Robey Chicago, Chef Stellings pairs up with Eataly and Rossopomdoro pizzaiolo Simone Iavarone for the series Quattro Mani, meaning "four hands," on July 4th to support The Glenholme School once again. For the special occasion, Chef Stellings created an inspired Austrian Smoked White Chicory Pie with Crème Fraîche, Fromage Blanc or "white cheese," pancetta, white onions, nutmeg, chives and yellow chicory. It will be served alongside a pizza made by Eataly's pizzaiolo. Chef Stelling's appearance at and creation for Quattro Mani will most certainly provide a memorable evening for pizza connoisseurs. Join them on July 4th at Eataly Chicago and help support The Glenholme School as it approaches its 50th anniversary in 2018.
About The Glenholme School:
Devereux Advanced Behavioral Health — The Glenholme School is an independent, coeducational, special needs boarding school for young people with high functioning autism spectrum disorders, ADHD, OCD, Tourette, depression, anxiety, and various learning differences. The program provides a treatment milieu designed to build competence socially and academically. Our learning environment supports and enhances the ability for young people with special needs to succeed. Devereux Advanced Behavioral Health is a leading nonprofit behavioral health organization that supports many of the most underserved and vulnerable members of our communities. For more information about The Glenholme School and its program, visit http://www.theglenholmeschool.org/.
About Eataly:
Founded by Oscar Farinetti, Eataly is the largest artisanal Italian food and wine marketplace in the world. From the opening of the first location in Turin in 2007, the philosophy "Eat. Shop. Learn." has spread to the rest of the world. At Eataly Chicago, which totals over 60,000 square feet on two floors, it is possible to purchase high-quality food and drink at accessible prices. Consumers can experiment with new combinations of flavors at the various restaurants throughout the marketplace before learning more about Mediterranean culture with educational courses on food, wine, and nutrition. The Chicago location opened in December 2013. Eataly New York Flatiron and Downtown, Chicago, and Boston are a product of the collaboration between Oscar Farinetti and his American partners Mario Batali, Joe and Lidia Bastianich, and Adam and Alex Saper.