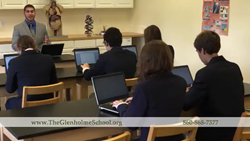 There are highly specialized schools that strike the balance between academic achievement and emotional support.
Washington, Connecticut (PRWEB) May 17, 2016
The Glenholme School, an independent, coeducational, boarding and day school for young people with high functioning autism (ASD), compulsive behaviors, depression, anxiety and various learning differences, recently collaborated with the creative team at "VOICES IN AMERICA" to deliver a first-of-its-kind broadcast effort for the school. The six-minute interstitial segment and one-minute commercial showcase the essence of the school in an effort to apprise audiences of educational options for students with special needs.
"VOICES IN AMERICA" is an educational public television series featuring an award-winning production team delivering short-form documentaries spanning topics such as medical innovations, agricultural developments, educational advancements, and technological breakthroughs. The world-renowned host and industry veteran, James Earl Jones, lends his voice and talent to the introduction of each segment which showcase groundbreaking advancements that are changing the world around us for the better.
Through "VOICES IN AMERICA" strategic partnerships with various media distribution outlets, segments for The Glenholme School aired regionally on commercial television stations. Hundreds of public television stations across the nation are anticipated to air the six-minute interstitial segment at various times over the next seven months.
Shorter commercials, including 15-second and 30-second spots, were created and are airing in May on regional news shows and CBS Sunday Morning in the New York area with the assistance of WCBS. The entire Glenholme community is pleased with the effort and appreciative of the diligence and enthusiasm of the "VOICES IN AMERICA" team and the creative crew at WCBS in New York.
Executive Director Maryann Campbell noted, "It is our hope that this astounding effort will bring greater awareness to students with special learning needs and the educational options that can guide each of them to a successful and meaningful life."
About The Glenholme School:
The Glenholme School, a center of Devereux Advanced Behavioral Health, is an independent, coeducational, special needs boarding and day school for young people with high functioning autism spectrum disorders, ADHD, OCD, Tourette's, depression, anxiety, and various learning differences. The program provides a treatment milieu designed to build competence socially and academically. Our learning environment supports and enhances the ability for young people with special needs to succeed. Devereux Advanced Behavioral Health is a leading nonprofit behavioral health organization that supports many of the most underserved and vulnerable members of our communities. For more information about The Glenholme School and its program, visit http://www.theglenholmeschool.org/.