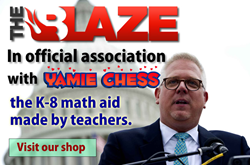 TheBlaze's review team has thoroughly reviewed Yamie Chess and your shop has been chosen to join TheBlaze. Congratulations on being selected as our newest partner and welcome to a family of like-minded businesses that share your values.
Las Vegas, Nevada (PRWEB) July 17, 2014
Yamie Chess announces the full endorsement of the respected Conservative broadcaster Glenn Beck.
The national website of Glenn Beck's channel, TheBlaze, began publicizing Yamie Chess the day after Independence Day 2014, to bring national awareness to the Yamie Chess math cause to increase children's proficiency in math and STEM subjects across the nation.
Coinciding with Yamie Chess selling out in 3 days at Christian Homeschooling event, Teach Them Diligently in Dallas, Texas, where Yamie Chess established a new fan base (see picture of Texas children playing the math game, below), Yamie Chess is now selling on Glenn Beck's TheBlaze, following the New York-based TheBlaze's thorough examination and formal approval of the educational product. (Teach Them Diligently is an integral part of the U.S. Homeschooling community calendar, hosting events throughout the year in Texas, Nashville, Spartanburg and Washington, D.C.)
No prior experience or knowledge of chess is needed to play the Yamie Chess math game, which is suitable for children of all math abilities from underachievers to average and gifted students, and available to order with free shipping from Amazon.com.
The purpose of Glenn Beck giving Yamie Chess, its own official online shop portal on TheBlaze with a public biography, written by TheBlaze, is to introduce the award-winning Yamie Chess learning toy to conservatives across the nation, in addition to serving as a valid resource for families looking for more information on Yamie Chess' USA chess champion creator and the US math group behind the product.
Already a Mom's Choice Awards Gold Seal Recipient since Yamie Chess' international debut at the New York Toy Fair on February 16th, Yamie Chess' math team includes veteran school teachers, Title 1 and Academic Intervention supervisors with decades of experience, backed up by a pioneering collaboration between professional U.S. engineers and graduate math educators from MIT, Caltech, Columbia, Vanderbilt, Stanford and the University of Arizona.
Glenn Beck's endorsement comes just 1 month before United States chess champion Jennifer Shahade is scheduled to play the Boy and Girl Scouts of America at a historic tournament in Indianapolis, IN, at Gen Con -- the first time in US chess history that a 2-time USA chess champion has played at the 40-year-old Gen Con event founded by Dungeons and Dragons creator, Gary Gygax.
Yamie Chess' highly qualified math team have worked with American Women's Grandmaster Jennifer Shahade to design a math toy that seeks to make the Class of 2025 the most employable to ever graduate the US public school system.
In June, Yamie Chess won the US child development expert Dr. Stevanne Auerbach PhD's Dr. Toy Best Vacation Toy of the year with Lego. The company reenacted Garry Kasparov's Immortal Game at the South Rim of Arizona's Grand Canyon in June to bring more attention to how classic chess can be used to build children's math abilities across a wide spectrum of educational aptitudes.
Yamie Chess is on an educational mission to nurture children's strength in math and data handling, using classic chess as a framework to teach algebra, geometry, data analysis, number skills and operations, aligned by top US math experts and school teachers to the National Council of Teachers of Mathematics (or NCTM) Curriculum Focal Point Standards.