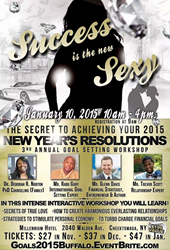 Within every challenge is an opportunity to overcome it and teach others how you did it. Provide this kind of value to people that are stuck where you once were and you just might discover your passion, your purpose, and even a business for yourself.
Cheektowaga, NY (PRWEB) December 17, 2014
At the start of every year, people often hope to make the new one better than the last. That, in fact, is why people create New Year's Resolutions; though many may be at a loss concerning how to achieve them. The third annual, 'Success is the New Sexy' exists specifically for that purpose. Whether a person's resolutions focus on heir financial well-being, their business life, or even their romantic relationships, the event will include speakers and workshops to help them on their way. Glenn Davis, Jr., will be among the speakers; his personal story of finding financial freedom is as inspiring as it is valuable.
Glenn is an entrepreneur, author, and financial strategist who found his path to financial freedom by making a lot of mistakes along the way. With a focus on creating plans for one's life, finances, and business, he helps others break free from the types of financial burden he himself has faced: debt, financial collapse, and the unsound advice from financial "experts."
Focused on total wealth—including physical and mental health as well as finances—Davis, Jr.'s keynote speech at 'Success is the New Sexy' will steer attendees on the path to a life unburdened by constant troubles and money worries. A more in-depth path will also be revealed in his upcoming book Mission: True Freedom. The book, which will be launched by Next Century Publishing, is a blueprint for finding financial freedom in the 21st century.
'Success is the New Sexy,' will take place on Saturday, January 10th specifically to assist those who desire to kick-start their 2015. The event will last from 10 a.m. to 4 p.m. and will be held at the Millennium Hotel I Cheektowaga, NY. More information and tickets, which cost $37 in December and $47 in January, are available at http://bit.ly/1BVAQXQ.
Glenn Davis
Glenn Davis, Jr. is a life long entrepreneur, fitness advocate, business builder, and financial strategist. He's an ordinary guy that touts his best financial schooling wasn't his time spent building businesses or at his financial planning firm, it was all of the mistakes he made along the way to financial freedom!