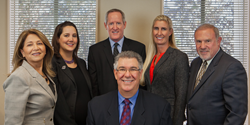 SANTA ANA, CA, (PRWEB) October 10, 2014
Glenn M. Gelman & Associates is pleased to announce Warren Hennagin, CPA, has been appointed as the new managing partner of the firm. For over 30 years, Mr. Hennagin has collaborated with clients and colleagues providing audit, tax consulting and compliance services to the construction, real estate, restaurant and manufacturing industries.
Mr. Hennagin succeeds the firm's founder, Glenn Gelman, after Mr. Gelman's sudden and unexpected passing on August 29, 2014. "Despite this great loss, the team at Glenn M. Gelman & Associates will continue to work and carry on the great legacy Glenn left behind with the same level of passion and commitment. It is my hope that we continue his work in a way that will honor his memory forever," said Mr. Hennagin.
Mr. Hennagin has over 30 years of public accounting experience. He holds a Bachelor of Arts degree in Business Administration with concentrations in Accounting and Management Information Systems, a Master's Degree in Taxation and is a Certified Construction Industry Financial Professional (CCIFP).
As managing director of Glenn M. Gelman & Associates, Mr. Hennagin will manage the overall operations of the firm, serve as engagement director for audit, accounting and tax engagements, and will manage internal computer controls and technological updates.
Mr. Hennagin has been recognized by Construction Link magazine as "the best accountant" serving the construction industry. He has held key leadership positions in several construction related organizations and is an accomplished speaker on technical and technological computer and accounting issues.
###
About Glenn M. Gelman & Associates
Glenn M. Gelman & Associates (http://www.gmgcpa.com) is a premier accounting firm in Southern California committed to providing superior tax, audit, accounting, strategic business consulting, litigation support and business valuation services to private businesses and individuals to enhance profitability, save taxes, improve accountability and preserve wealth. As a local firm, with national and international resources, Glenn M. Gelman & Associates attracts talented and experienced staff members who provide clients with service that exceeds expectations.