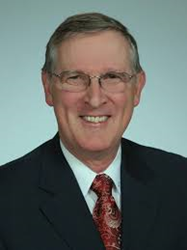 Glen's local council 104 has grown from 2 active members to an average attendance of over 20.
Ashland, Nebraska (PRWEB) June 27, 2017
Local council 104 of United Commercial Traveler is proud to announce that Glen Riensche was elected at the 120th annual regional conference of United Commercial Travelers (UCT) held at Mahoney Park to serve a one year term as Regional President.
Mr. Riensche addressed the 60 assembled delegates from the 11 councils making up the Kansas and Nebraska Region with his message entitled Do It Now. He told the assembled delegates that the time to find meaningful activities is now. Glen pointed out how his local council 104 had grown from 2 active members when they were meeting to an average attendance of over 20. This was attributed to the fact that the council has been fast-paced and lighthearted. United Commercial Travelers has helped reach out to the local community with many worthwhile projects.
One such project is the Christmas Tree Lighting/Food Drive. The UCT Food Drive over 600 pounds of food this year and a donation of $800 to the Foodbank of Lincoln. Another such project is Mr. Riensche's UCT local participation in a poker run. This event raised over $7000 for a family who's' child needed surgery to repair serious birth defects. Glen promised to visit each of the local UCT councils this year and share some of the ideas that have helped his local council become a vibrant and meaningful organization.
United Commercial Travelers was founded in 1888 by 8 traveling salesmen as a society to provide accident insurance and other benefits to traveling salesmen or commercial travelers. Today it is a non-profit financial services organization that helps supports communities and causes across the United States and Canada. In addition, it provides its members with a variety of insurance products including dental, accident, life and nursing home polices. In addition, UCT as a national organization and locally provides qualified individuals with scholarships for educational pursuits.