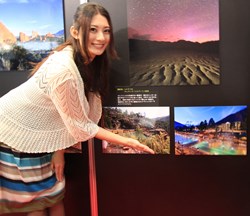 Our mission was to educate and entice tour operators about all that Glenwood Springs has to offer, both tangible and intangible – our tourism products as well as our friendly and welcoming nature.
Glenwood Springs, CO (PRWEB) September 19, 2013
Until recently, the only way to travel from Japan to Colorado was to land on the West coast and make a connecting flight to Denver International Airport (DIA), limiting many potential guests and tourism dollars to Pacific coast states. Boeing's new 787 Dreamliner Tokyo-Denver service into DIA drops Japanese visitors within driving and Amtrak distance of Glenwood Springs – home to the world's largest mineral hot springs pool, Glenwood Caverns Adventure Park, Hanging Lake and Doc Holliday lore. Glenwood Springs' location and proximity to Colorado's acclaimed national parks and monuments also make the town an ideal stop for visitors exploring the state. Rocky Mountain National Park, Dinosaur National Monument and Colorado National Monument are all within an easy drive of Glenwood Springs. Seeing the potential for increased revenue, the town's tourism advocates and businesses are doing all they can to influence Japanese travelers to include Glenwood Springs in their Colorado travel plans.
"We are hoping to capitalize on this exciting, new opportunity," said Lisa Langer, vice president of tourism marketing for the Glenwood Springs Chamber Resort Association. "Glenwood Springs' tourism products align seamlessly with many Japanese travel interests: mineral hot springs, scenic hikes and Western history."
In a state bursting with attractions, Langer and Jeremy Gilley, marketing manager for Glenwood Hot Springs, set out for Los Angeles in August with a Colorado Tourism contingency to meet with Japanese tour operators in order to leave a lasting and favorable impression of Glenwood Springs. Receptive tour operators, mainly located in the LA area, are key liaisons and are highly influential in creating tour packages in the U.S. "Our mission was to educate and entice tour operators about all that Glenwood Springs has to offer, both tangible and intangible – our tourism products as well as our friendly and welcoming nature," said Langer.
As a result, both Langer and Gilley have been building relationships with Japanese travel industry professionals including tour operators, print and broadcast media. Langer hosted a familiarization tour showcasing the town's abundant attractions and variety of lodging and dining choices. Gilley welcomed tour operators whose primary interest was the mineral hot springs pool and promoting "picturesque" hiking trails for the senior market.
In addition to hot springs and hiking, some Japanese visitors also enjoy a good adrenaline-pumping escapade. For an episode of Amazing Stories, a highly ranked prime time Japanese news program with millions of viewers, a film crew spent the day at Glenwood Caverns Adventure Park where the show's host was featured on thrill rides including the Giant Canyon Swing which swoops riders out over Glenwood Canyon and the Cliffhanger Roller Coaster, the highest elevation roller coaster in North America.
Second only to Canada, Japan is the largest source of tourism dollars spent in the U.S. Approximately 52,000 Japanese tourists visit Colorado each year, but with the new direct flight into DIA, that number is expected to explode. The Colorado Tourism Office (CTO) is partnering with in-state destinations including Glenwood Springs to actively promote tourism to Asian markets. In November, representatives from Colorado will conduct a travel trade and media sales mission to Japan, meeting with tour operators in Tokyo and Osaka. Coming up in September, the CTO will participate in the annual JATA World Travel Showcase, one of the largest tourism events worldwide with over 120,000 industry participants, in which Glenwood Hot Springs will be featured.
While the Japanese and Asian markets are the immediate focus, Glenwood Springs is reaching out to visitors in other countries as well. In partnership with the CTO and Brand USA, a national global marketing effort to promote the United States as a premier travel destination, Glenwood Springs has recently embarked on an In-Language Content Creation Program to create video content in both Japanese and Portuguese that will be distributed under the Brand USA umbrella. In addition, Glenwood Springs' tourism promotion board has also approved international content for travelers to its website http://www.visitglenwood.com. Beginning in late September visitors will be able to explore Glenwood Springs online in nine languages including Japanese, Mandarin Chinese, German, French, Italian, Russian, Polish, Spanish and Portuguese.
About Glenwood Springs
Glenwood Springs is located between Aspen and Vail, 165 miles west of Denver and 90 miles east of Grand Junction on I-70 off Exit 116. Glenwood Springs is home to many attractions and amenities including Hanging Lake, Glenwood Caverns Adventure Park, Glenwood Hot Springs, Yampah Vapor Caves and Sunlight Mountain Resort. For more information about Glenwood Springs, Colorado, call 970-945-6589 or go to http://www.visitglenwood.com/. A complete press kit, press releases and downloadable photos are available at http://www.visitglenwood.com/media.
Media Contacts:
Lisa Langer, Vice President of Tourism Marketing
Glenwood Springs Chamber Resort Association
970-230-9035
lisa (at) glenwoodchamber (dot) com
or
Vicky Nash, Public Relations Representative
Resort Trends, Inc. – media communications for the travel & tourism industry
970-948-4923
Vicky (at) resorttrends (dot) com