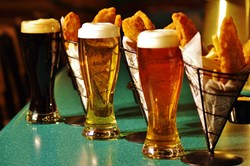 With our proximity to the state's premier farming and growing regions, Glenwood Springs is fast becoming a destination base for visitors interested in adding an epicurean component to their travel itinerary.
Glenwood Springs, CO (PRWEB) October 24, 2013
Brewers to the east, vineyards to the west and distilleries to the south – oh, my! Connect flavor, scenery, history and more with a regional tour that includes everything from local coffee roasters and brewers to vintners and distillers. This tasty adventure begins in Glenwood Springs and culminates with a new understanding of the people and places behind the beverages.
"Not only are people interested in the source of their sustenance, but local food and drink tell a distinctive story about an area – think of the Piedmont region of Italy, Provence, France, or even Gilroy, Calif., the garlic capital of the world," said Lisa Langer, vice president of tourism marketing for the Glenwood Springs Chamber Resort Association. "With our proximity to the state's premier farming and growing regions, Glenwood Springs is fast becoming a destination base for visitors interested in adding an epicurean component to their travel itinerary."
Agritourism – when agriculture-related practices attract visitors – is a trend that continues to gain momentum in Colorado, especially within the beverage industry. In fact, according to statistics from the Colorado Tourism Office, Colorado currently ranks third in the nation for the number of breweries, with 139 craft breweries in existence and an additional 75 in the planning stages. Colorado's wineries and distilleries have experienced similar growth in recent years.
From micro-brews, wine and spirits to hand-crafted root beer, slow-roasted coffee beans and even a rediscovered cure for an assortment of ailments, give these locally-sourced libations a try to savor a whole new side of Glenwood Springs.
Defiant Bean Roasters and Bonfire Coffee
Located at 3421 S. Grand Ave., Defiant Bean Roasters is a family-owned company that began when brothers Brian and Jeff Hollenbaugh started experimenting with roasting raw coffee beans in their home kitchens. Impressed with the flavor of the freshly roasted beans, it was only a matter of time before the duo went into business together. They recently merged with Bonfire Coffee, based out of Carbondale, with a goal of becoming the Western Slope's premier coffee company. Now, Defiant Bean Roasters and Bonfire Coffee offers fully caffeinated, decaf and 50/50 blends in 13 varieties, ranging from Garage Blend and Blend X to Sumatra Mandheling. In addition to sales at the roastery, Defiant Bean coffees are also sold at the Book Train in downtown Glenwood Springs. For the best cup of java, Jeff Hollenbaugh recommends drinking coffee within two weeks of purchasing.
Glenwood Hot Springs
Visitors have been "taking the waters" at Glenwood Hot Springs for health benefits and relaxation for 125 years. While soaking in the world's largest mineral hot springs pool is the typical method for enjoying the hot springs, some visitors choose to ingest the warm, mineral-dense liquid straight from the source. During Victorian times, it was the job of young Bartow Duncan to serve cupfuls of the spring water to visiting guests. An acquired taste, water from the drinking spring contains 15 dissolved minerals and has historically been used as a remedy for a variety of maladies. Today's visitors can find the drinking spring in its original location at the east end of the property but will have to supply their own cups, as Duncan is no longer available.
Glenwood Canyon Brewing Company
In 1995, Steve and April Carver were visiting Durango and ended up waiting in line for breakfast at the popular Carver (no relation) Bakery and Brewing Company. They bought a growler of beer, sat on the sidewalk and decided that Glenwood Springs really needed a quality local brewery. Who better to partner with than Jim and Bill Carver, owners of that bakery and the second craft brewery in Colorado? Over breakfast, the Carvers met the Carvers, some convincing took place and the successful partnership began. Located in the historic Hotel Denver, Glenwood Canyon Brewing Company is now one of the most award-winning breweries in Colorado. Try these beers on tap this fall: Shoshone Stout, Imperial Red and Dotsero Cream Ale. The pub's handcrafted root beer is also a favorite of all ages.
Woody Creek Distillers
Woody Creek Distillers (WCD) is the first and only craft distillery in the United States with control over every element of vodka production. WCD grows its own potatoes at Scanlan Family Farm in nearby Woody Creek, south of Glenwood Springs, and sources local fruits, grains and mountain spring water to produce its line of ultra-premium American spirits. Nowhere else in North America does a distillery harvest its own potatoes and get them in the still the same day. Try WCD's Potato Vodka and their Limited Reserve Stobrawa Vodka. The distillery welcomes visitors to its tasting room located at 60 Sunset Drive, in the town of Basalt.
The Pullman & Rivers Restaurant
From Glenwood Springs, take a day trip to Paonia or Palisade, Colorado's wine country, or stay in town and sample the fruit of vines at local restaurants. The Pullman, located on Seventh Street in downtown Glenwood Springs, serves Colorado wine such as 5680' Elevation, a Paonia-grown Zinfandel and Tempernillo blend. 5680' is named for the elevation of the vineyard, which is part of the highest recognized wine-growing region in the U.S.
Wine aficionados can also head over to Rivers Restaurant, south of downtown, for scenic views of the Roaring Fork River while sipping the Cabernet Sauvignon blends produced by Palisade's Canyon Wind Cellars. With the assistance of renowned Napa Valley winemaker Robert Pepi, the Christianson family produces award-winning, signature wines utilizing sustainable and low-intervention winemaking practices.
Glenwood Springs is a destination filled with flavors, and visitors are invited to experience them all. Find out more about the foodie scene in Glenwood Springs at http://www.visitglenwood.com.
About Glenwood Springs
Glenwood Springs is located between Aspen and Vail, 165 miles west of Denver and 90 miles east of Grand Junction on Interstate 70 off Exit 116. Glenwood Springs is home to many attractions and amenities, including Hanging Lake, Glenwood Caverns Adventure Park, Glenwood Hot Springs, Yampah Vapor Caves and Sunlight Mountain Resort. For more information about Glenwood Springs, Colorado, call 970-945-6589 or go to http://www.visitglenwood.com/. A complete press kit, press releases and downloadable photos are available at http://www.visitglenwood.com/media.
Media Contacts:
Lisa Langer, Vice President of Tourism Marketing
Glenwood Springs Chamber Resort Association
970-230-9035
lisa (at) glenwoodchamber (dot) com
or
Vicky Nash, Public Relations Representative
Resort Trends, Inc. – media communications for the travel & tourism industry
970-948-4923
Vicky (at) resorttrends (dot) com