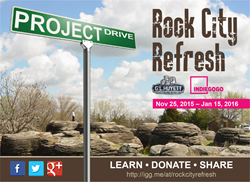 Minneapolis, Kansas (PRWEB) December 10, 2015
Since founding Project Drive in 2007, G.L. Huyett, has awarded over $123,000 in grants to non-profit organizations within a 50-mile radius of Minneapolis, KS, to improve North Central Kansas communities. In November, $28,000 was awarded to seven projects. Additionally, the Company is sponsoring an Indiegogo crowdfunding campaign to support Rock City Refresh, a renovation project for Rock City Park, a registered Natural Landmark.
Rock City Park is a registered Natural Landmark of unexpected beauty hidden in the rolling plains and wheat fields of the Smoky Hills 3.5 miles south of Minneapolis, KS. What makes it unique, and somewhat unusual, is the presence of about 200 spherical calcified-sandstone boulders up to 27 feet in diameter spanning five acres in North Central Kansas.
To support Rock City Park's renovation plan – Rock City Refresh – to turn their existing gift shop into a learning center to provide visitors with a broader, more educational experience about this unique geological wonder, G.L. Huyett's Project Drive community improvement program is sponsoring an all-or-nothing Indiegogo crowdfunding campaign to raise $2,987 from individual contributors. Indiegogo is a website that allows individuals to contribute to worthwhile projects from anywhere in the world.
Project Drive was founded in 2007 by G.L. Huyett to serve the needs of non-profit organizations within a 50-mile radius of Minneapolis, KS. Each year grants are awarded in increments up to $25,000 for any one project seeking to improve a North Central Kansas community. In 2015, Project Drive awarded $28,000 to seven projects in Ottawa, Lincoln, Cloud, and Saline Counties.
G.L. Huyett's CEO, Timothy O'Keeffe, defines the motivation behind Project Drive, "With our company's success, we have a responsibility to share with our community to create an atmosphere where other people can succeed."
If the Indiegogo campaign is successful, Rock City Park's updated gift shop will include a number of locally made products as well as books and educational toys that emphasize geology, local history, and flora and fauna of the region. Plans also include an interactive, hands-on display that simulates the evolution of the sandstone concretions and an animated presentation that will appeal to school groups and daily visitors alike.
"Beyond renovations, we hope that this crowdfunding campaign will increase awareness of Rock City along with the number of new and repeat visitors that result in a revenue stream that will sustain Rock City for decades to come and allow for lower admission fees and the continued development of additional park experiences," adds O'Keeffe.
Rock City Park features a small gift shop open 9 to 5 May through September, a Nature Trail, a kid's scavenger hunt, horseshoe pits, a gazebo, a picnic shelter, benches, a performance stage, and modern ADA compliant restrooms.
Nearly 1/3 of the more than 10,000 people who visit every year are from outside of Kansas, including many rock climbers who use Rock City's challenging, yet safe, rocks to practice on during their journey to and from the Rockies.
Rock City is neither a public park, nor does it receive government funding. It is funded entirely by membership dues, park admission fees, and individual donors, and is maintained by Rock City, Inc., a non-profit corporation.
Visit http://igg.me/at/rockcityrefresh to learn more or make a contribution to support Rock City Refresh between now and January 15th, 2016.
About G.L. Huyett
Established in 1906 by Guy Huyett in the "other Minneapolis," the company is one of the oldest continuously operating businesses in Kansas. Founded on the production and distribution of machinery bushings, in the 1990's, entrepreneurial owners Tim and Carol O'Keeffe recognized huge potential in offering low order minimums, fast shipping, and expanding product offerings to a complete inventory of pins, retaining rings, grease fittings and accessories, bushings, washers, shims, shaft collars, assortments, and tools.