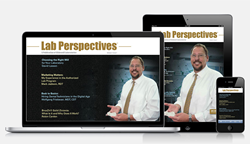 Lab Perspectives is your guide to achieving reliable laboratory growth in the digital age.
Newport Beach, CA (PRWEB) March 28, 2014
Glidewell Laboratories, industry-leading provider of dental laboratory products and services, announced today the first issue of Lab Perspectives™ magazine, its multimedia publication focused on the dental laboratory industry. Now available in print and across multiple digital platforms, the digital edition of the inaugural issue, Volume 1, Issue 1, can be viewed from all popular desktop, table and smartphone platforms by visiting http://www.labperspectives.com.
The featured industry Q&A spotlights Mark Jackson, RDT, vice president and general manager of Precision Ceramics Dental Laboratory. His DAMAS-certified dental laboratory located in Montclair, Calif., was founded over three decades ago and has reliably served the professional community with up-to-date technological advances ever since. Read the article to discover what he has to say about joining the BruxZir™ Authorized Laboratory program, the necessity of decisive marketing and branding, as well as the future of monolithic restorations and CAD/CAM dentistry.
The issue also features an article that breaks down the benefits and limitations of two styles of milling machines, enabling readers to make informed technology-driven purchases. Manufacturing engineer and milling expert David Leeson lays out the complexities of this expensive equipment in an effort to keep laboratory decision-makers from breaking the bank on equipment that does not suit their case requirements. While providing a thorough look into the topic, he ultimately delivers an easy-to-read view on a subject often perceived as too convoluted to discuss.
Other highlights include an exclusive interview with Lou Azzara and Dell Dine, CDT, of BEGO USA, where they explain their focus on purposing high-performance manufacturing for dental applications. An article by Editor-in-Chief Wolfgang Frieabauer, MDT, CDT, sheds light on how to identify technician candidates capable of excelling in a digital work environment. Opening the doors to the team responsible for BruxZir® Solid Zirconia, Glidewell Laboratories research and development vice president Robin Carden details a material science overview of the unique zirconium dioxide material.
Lab Perspectives magazine is published by Glidewell Laboratories and President/CEO Jim Glidewell, CDT. Each issue of Lab Perspectives will seek to highlight the many aspects of the lab industry from business and technical perspectives. Featuring exclusive Q&A interviews with some of the most trusted names in the industry, step-by-step technical procedures and business management tips, Lab Perspectives is your guide to achieving reliable laboratory growth in the digital age.
To view the new Lab Perspectives magazine digital edition from your desktop computer or favorite mobile device and to sign up for a free subscription to the print version, visit http://www.labperspectives.com. For more information about Lab Perspectives magazine, call 844-237-2839 or e-mail labperspectives(at)glidewelldental(dot)com.