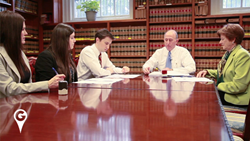 Savannah, Georgia (PRWEB) April 29, 2014
Savannah real estate attorneys with Bouhan Falligant were featured in a short documentary about the closing process in residential real estate acquisitions. Based in Savannah, Georgia, Bouhan Falligant is a full-service law firm.
Lawyers in Bouhan Falligant's residential real estate practice worked with Glimsity, an online directory of short documentary videos that helps businesses, professionals and non-profits tell their story through professional video production.
Through high-quality video, Bouhan Falligant was able to communicate its difference and what sets its real estate lawyers apart from others. Glimsity videos help to inform and engage new clients.
The video was shot documentary style and runs approximately three minutes in length.
To view the video, click here http://glimsity.com/videos/bouhan-falligant-residential-real-estate-practice/