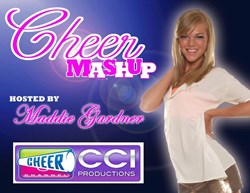 We are happy to have renewed our sponsorship with Cheer Channel and Maddie Gardner for the second season of Cheer Mashup.
San Diego, CA (PRWEB) September 16, 2013
Glitterbug Cosmetics has renewed its partnership with Cheer Mashup and will continue to be a sponsor of the popular web series for the second season. Produced by Cheer Channel Inc, the premier entertainment network for the cheer industry, the first season of Cheer Mashup has been a fan favorite, with popular cheerleader Maddie Gardner as the host.
Glitterbug has previously worked with Cheer Channel, having been a sponsor of both seasons of Cheer Channel's hit series Secret Diary of an American Cheerleader. Glitterbug provided all performance cosmetics for the cheerleaders on the show.
Glitterbug is a cosmetics company specializing in sparkly glitter products for face and body. The Glitterbug collection includes an array of cosmetics ranging from lip and eye makeup, to adhesive rhinestones, pre-glittered stars and glitter dust. Glitterbug is performance make-up designed for cheerleaders, dancers, and anyone else looking to add a little bling to their performance.
Glitterbug looks forward to continuing its partnership with Cheer Channel on the show.
"We are happy to have renewed our sponsorship with Cheer Channel and Maddie Gardner for the second season of Cheer Mashup," stated Glitterbug marketing manager, Jessica Rzeszut. "We always keep cheerleaders in mind when developing our products, and Cheer Mashup is a great medium through which to tell them about our competition and performance makeup."
Cheer Mashup, featuring Maddie Gardner first aired in spring of 2013 and can be viewed on the CCI Website, YouTube, and all CCI social media platforms as well as through Dish Satellite, Roku, Boxee, Vimeo, Blip TV and from any mobile device worldwide, 24-7.
To learn more about Glitterbug Cosmetics, visit their Facebook page or website. Visit Cheer Channel's website to learn more about Cheer Mashup and other cheer shows.
About Glitterbug Cosmetics:
Unlike many cosmetics companies, Glitterbug specializes in glitter, self-adhesive glitter stars, and rhinestones. We offer a number of popular colors that can easily be used in combination with any other Glitterbug products, allowing you to create original looks that will stand out from the rest of the crowd. Our cosmetics are fun, safe, easy-to-use and perfect for any occasion. You can purchase Glitterbug Cosmetics products online at Omni Cheer or Campus Teamwear.
About Cheer Channel Inc:
CCI, a privately held corporation with offices in Texas and California, serves as the premier entertainment and news network for the millions of athletes and fans of the spirit industry. An interactive, multi-digital online and broadcast destination, CCI provides the latest emerging media technology engaging tweens and teens across the most popular social media platforms.