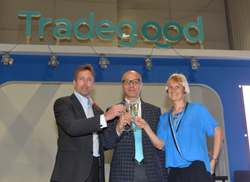 (PRWEB) August 29, 2013
Tradegood, the B2B sourcing community that connects responsible buyers and trusted suppliers, facilitated over 500 business-matching opportunities at Tradegood Pavilion and Business Matching Booth during the four-day Sourcing at MAGIC show at the Las Vegas Convention Center from Aug 18 to 21, 2013.
Tradegood Business Matching Booth received an endless stream of visits from buyers looking for quality suppliers with trusted identities and company profiles, as are now realized through Tradegood's unique 'Business done right' verification process.
"We are very happy to have Tradegood as our Official Business Matchmaker for this leading industry event. It has become essential for buyers to find their matching suppliers with the least cost and time possible to stay competitive in the supply chain. Tradegood has come to be the solution for every buyer by cutting out blind spots and uncertainties. We are sure our visitors enjoyed Tradegood's services and look forward to working with Tradegood again in the shows next year,' said Christopher Griffin, Vice President, Sourcing at MAGIC/ WSA@MAGIC of MAGIC International.
William Quilindo, Chief Operations Officer, Tradegood, said: 'I believe our team of professional sourcing experts sheds even more light on this well-known sourcing event, during which global buyers are directed to the right booths and matching sessions are arranged. Tradegood appreciates our partnership with Sourcing at MAGIC and is confident it can help more buyers in upcoming shows. We are continuing with our matching services post-show to help more buyers find their perfect matches.'
The Tradegood Pavilion, which hosted a huge range of Tradegood premium suppliers' products, and the Tradegood Fashion Show received major attention as well. The Pavilion has proven to be an effective yet interesting way for buyers to understand new suppliers' capabilities, offering real samples and verified company information. The eight fashion shows run during the event also provided an innovative showcase of supplier products in an upbeat and eye-catching manner.
As a game changer in the supply-chain industry, Tradegood strives to offer more services to both buyers and suppliers, and welcomes participation from everyone in the industry.
For more event photos and coverage from the event, please visit the Tradegood website.
About Tradegood
Tradegood is a B2B sourcing community that connects responsible buyers with trusted suppliers. By verifying suppliers' identities, capacity, capabilities and compliance performance, Tradegood provides buyers with the information they need to choose the right people and organizations to form their global supply chain. For suppliers, Tradegood opens the door to the world's biggest markets through leading brands, retailers and industry relationships. Backed by Intertek's more than 127 years of experience in inspection and verification across the supply-chain ecosystem, Tradegood's global network spans more than 100 countries, providing quality information to help companies 'do business right'.
For more information, please visit http://www.tradegood.com.