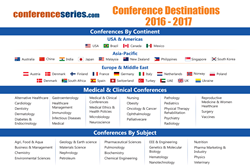 Meet Inspiring Speakers, Experts and Industry Delegates at our 3000+ Annual ConferencesSeries
Los Angeles, CA (PRWEB) January 06, 2016
OMICS International, the leading open access publisher and the International Event Curator along with its subsidiary, Conference Series is gearing up for the year 2016-17 to add Medical conferences series across the global destinations as this field is going to dominate the global medical and healthcare industry.
With global issues like climate change, pollution, and the ever-changing lifestyles imposing major health problems in the 21st century; advancements in the Medical research can act as potential agents in mitigating these hazards. OMICS International is thereby all set for this task by unleashing the knowledge and advancements around the World through a series of 3000+ Global events, round table discussions, poster presentations, workshops, symposia and exhibitions.
Our Medical Conferences are aiming to give a 360 Degree attention on recent advancements and challenges in various medical fields including Diabetes-Endocrinology, Nursing-Healthcare, Neuroscience, Immunology, Gastroenterology, Genetics & Molecular Biology, Pediatrics, Ophthalmology, Oncology-Cancer, Cardiology, Dentistry, Reproductive Medicine, Surgery and Radiology. Through a series of global events, we are aiming to extend the life span of the global population by improving the quality of life.
Unique features of our medical conference series include:
•Networking with experts in the field
•Live streaming of International Conferences
•e-Poster for $49
•Student Travel Grants
•Student Delegate Registration for $99
•Best Poster Competitions and Young Researcher Competitions
•The Career Guidance Workshops to the Graduates, Doctorates and Post-Doctoral Fellows
We are heartened to inform that our robust on-line publicity attracts 25 million readers to our library of proceedings & articles, bringing worldwide exposure to the speakers at our conferences.
We provide the right colloquy for speakers to present their work through our International Conferences worldwide. With the help of more than 1200 pre-conference workshops and 1200 symposiums, importing theory and practices, we are aiming to enhance interaction among scientists, academicians, students and the research scholars to explore and strengthen diversified themes during 2016. Internationally renowned speakers would be addressing key topics, unveiling the latest breakthroughs in the field.
Conference Series LLC Medical Events are heading towards great global destinations across Americas, Europe, The Middle East, Asia Pacific and Africa during 2016-17 by scheduling its events in places where academic, business, science and technological research is flourishing over decades. Starting from USA, UK, Brazil, Mexico, Australia, Germany, France, China, Japan, Malaysia, India, Singapore, Netherlands, Norway, Poland, South Africa, UAE and Turkey our conferences are exploring all major global destinations known for scientific excellence and knowledge dissemination.
Conference series offers Continuing Education (CE) and Continuing Medical Education (CME) Credits in all disciplines of Medical, Dental and Nursing.
Our events provide ample opportunities to the sponsors & exhibitors to meet face to face with their target groups. Exhibiting products & services at our international meetings take them directly close to the target market and 25 Million readers gives more exposure. Our events are perfect platforms to launch Products and Services providing excellent scope for networking with potential buyers and other stake holders.