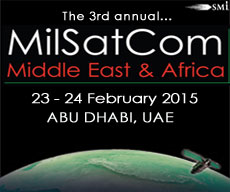 London (PRWEB UK) 23 October 2014
SMi's 3rd Annual MilSatCom Middle East & Africa conference will be taking place in Abu Dhabi for the first time, after having been highly recommended by the events' strategic partners, on the 23rd – 24th of February 2015.
The must-attend two day conference will boast a tailored programme based on current issues across MilSatCom covered by a series of international speakers, as well as discussing the latest developments taking place within the region and the latest technologies in the SatCom industry. In addition to having representatives from the Middle East, the conference will have African representation too as speakers explore the challenges of using satcom across difficult terrain. The event will also be hearing from nations outside the region sharing their experiences as end-users and the latest technologies in the satcom industry.
The 2014 expert speaker line-up features:
3 industry-leading keynote addresses from:

Colonel Atogeba Alobawone, Director Communication, Directorate of Defence Communication and Information Systems, Ghana Armed forces
Colonel Kattala, Tanzania People's Defence Forces
Colonel Thabo Ntoni, Senior Staff Officer Product Systems Management of the Command and Management Information Systems Division, South African National Defence Force (SANDF)
Key industry speakers:
Saeed Al Mansoori, Senior Engineer, Emirates Institution for Advanced Science and Technology (EIAST)
Yahaya, Isah Akor, Legal Adviser, National Space Research and Development Agency
Her Excellency Mrs Nicole Bintner-Bakshian, Ambassador of the Grand Duchy of Luxembourg in the UAE
Maria Mateo Iborra, Project Manager, Ground Segment Solutions, SES
Dr Ayman Ahmed, Satellite System Engineer, National Authority for Remote Sensing and Space
Laith Hamad, Director of Middle East and North Africa, Access Partnership
Speaker name to be Confirmed, NigComSat
Khalid Al Awadhi, Manager Space Services, Telecommunications Regulatory Authority
Click here to view the full conference programme
Key reasons to attend:
Have the opportunity to network with attendees from military end-users in the MilSatCom industry to satellite communication providers and vendors
Hear the challenges of implementing MilSatCom from end-users in the region such as availability options, cost and improving capability
Hear from the big players in Western SatCom industry and their latest technologies
Hear direct from Armed Forces in Africa about their MilSatcom challenges and future projects such as Tanzania
Hear about commercial and humanitarian collaborative efforts on SatCom particularly from Luxembourg
Understand more of the legal and policy aspects of satcom so as to avoid the common pitfalls across the region
Get a better grasp of the regulation around SatCom in Nigeria and United Arab Emirates from the Telecommunications Regulatory Authority, UAE
For more information or to register please visit http://www.milsatcom-mea.com
Alternatively, contact James Hitchen on: +44 (0) 20 7827 6054 or email: jhitchen(at)smi-online(dot)co(dot)uk
ENDS
About SMi Group
The SMi Group is a highly professional, independent and global event-production company that specializes in Business-to-Business Conferences, Workshops and Masterclasses, and online Communities. The SMi Group creates and delivers events in the Defence, Security, Energy, Utilities, Finance and Pharmaceutical industries. For more information, please visit http://www.smi-online.co.uk