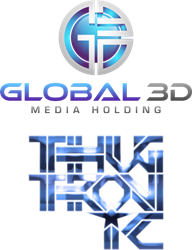 World's First Integration Of Music And Glasses-Free 3D Technology!
Los Angeles, CA (PRWEB) March 03, 2015
Hosted by 4-time Grammy Award winner Poo Bear, Thugtronic concert in live 3D is a 6-hour extravaganza of hip hop, R&B and other genres of music that begins on Tuesday, March 3, 2015 at 8pm at Avalon Hollywood in Los Angeles, California. The concert debuts Thugtronic's first single "Donchu Say." As the strategic partner of Thugtronic and the glasses-free 3D technology provider of the concert, Global 3D Media invites you to join this party of the utmost entertainment.
At the party, guests can take 3D selfies at the 3D photo booth provided by Global 3D Media, and have a close look at the limited edition naked-eye 3D smartphone and tablet. The same limited edition 3D products with the most advanced 3D technologies and 3D apps can be pre-ordered on Global 3D Meida's website.
The inception of Thugtronic is the fruition of DJ Yonny and Poo Bear's idea of a new music brand infused with various musical styles and genres. Thugtronic features internationally acclaimed DJs and singers, including Timati from Russia, Rudy Mancuso from Brazil, Fito Blanco from Panama, and Ashley Joi from the U.S.
Blending various genres of music, Poo Bear has won four Grammy Awards with his distinct voice and unique style. After over 350 million records sold worldwide, Poo Bear will surely make his new music brand Thugtronic yet another music power house.
Global 3D Media, one of the leading 3D technology companies in the world, is the strategic partner of Thugtronic concert in live 3D. Global 3D Media's advanced glasses-free 3D technology has been acclaimed by industry experts and organizations, including the International 3D & Advanced Imaging Society. As 3D phones and tablets become the new celebrity must-haves, don't fall out of fashion and pre-order on Global 3D Media's website with a discount now!
About Global 3D Media
Global 3D Media, is a leading global technology company with the most advanced 3D technologies, whose R&D is located at Silicon Valley. Through its innovative 3D products and 3D cloud platform, Global 3D Media continues to revolutionize how 3D technology development can transform the way humanity interact with the world.
Based on its advanced 3D technologies, Global 3D Media can produce high quality 3D movies, games, apps, advertising content, customized screens and 2D to 3D conversion. It is the only naked-eye 3D technology company with a closed-loop industry chain, including hardware R&D, production, installation, content production, mobile software and broadcast service. For more details please visit: http://www.global3dmedia.com/.