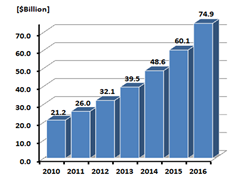 A recent Gartner survey projects a global demand of 14 million jobs by the end of 2016 with an expected market value of about $75 billion.
Princeton, NJ (PRWEB) September 17, 2013
Wharfedale Technologies Inc. (WFT) today announced its foray into higher education by introducing a master's program "Cloud Management with Business." This 15-month program including a dissertation will commence on January 14, 2014. WFT has recently commenced its education division with a sole aim to bring out state-of-art unique programs, which not only satisfy the current needs of the industry, but also allow potential students to exploit the future demand that Cloud infrastructure management has to offer. Running over three semesters starting on January 14, 2014, the Master of Science (MSc) program has been designed to attract people with degrees in Computer Engineering / Information Technology related subjects. The modules in the course will introduce students to the various areas of Cloud Technology as well as business-related topics such as Project Management, Leadership, Enterprise and Strategy.
When questioned the rationale behind this program, Ganesh Radhakrishnan, CEO of WFT says, "The Information Technology (IT) landscape is ever evolving. Over the last few years it has brought about changes that are meaningful and beneficial to the corporate world. As we look into the future, it is likely that more and more corporates will evaluate their current IT topography and move more into a SAAS (Software As A Service) based model, which is driven by the Cloud platform and technology. This not only ensures cost savings, but removes redundant hardware." Elaborating further, he says, "More and more corporations are restructuring their internal IT needs and deployment strategy. They would require resources with a deep understanding of Cloud (private and hybrid) technology to be implemented in their data centers. Cloud infrastructure specialists will be much sought after and will be in high demand as they will be required to move data in and out of their data centers and remove the inherent latency in cloud-based applications. There will be a tremendous need for professionals who will be able to understand and implement various ERP applications, as well as manage data and various security aspects around it." This offering will be a great boon for potential students to exploit the demand/supply gap. A recent Gartner survey projects a global demand of 14 million jobs by the end of 2016 with an expected market value of about $75 billion.
This program will be delivered in eight modules across three semesters with a dissertation to follow. The students during this time will be exposed to real time cloud environment and projects that will allow the students to experience real life situation in a corporate. Apart from the real time environment, students will be privy to the latest white papers; guest lectures from prominent industry experts and more importantly, to be a certified professional at the end of the program. The net result will be newly certified professionals that will not only be industry ready but may also open up opportunities to create or form new business ventures, if one is looking in that direction.
Summing up Radhakrishnan says, "This is a great opportunity for students to exploit the huge gap between supply and demand to meet the needs of the market. With a comprehensive scholarship offer from WFT and a job offer for 20 percent of the deserving students in the first year, this presents an unprecedented opportunity for the graduates of this course."
The first course commences on Jan. 14th 2014 at Global College Malta (A venture from Smart City Malta). For more information and registrations, please visit us at http://www.gcmalta.com/m-sc-cloud-management-with-business/.
About Wharfedale Technologies Inc.
Founded in 2000, Wharfedale Technologies, Inc. (WFT) is a leader in SAP infrastructure solutions. As a highly skilled SAP infrastructure consulting firm, WFT works closely with vendors, jointly delivering solutions to some of the largest clients in the financial, pharmaceutical, manufacturing and entertainment industries, as well as key government agencies. As an SAP certified provider of cloud services, Wharfedale also offers SAP solutions around - high availability, disaster recovery, advanced sizing for virtualization, back up/recovery Integration, systems refresh automation and landscape optimization. Recently WFT has started its education division with a focus on delivering niche higher education to students and professionals. For more information, please visit http://www.wftcloud.org.