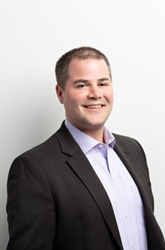 "This unique opportunity will allow me to expand on my experience leading innovation teams to build a strategic partner base as well as provide continued strong support to the founders, who are integral to the GIA's success."
DES MOINES, Iowa (PRWEB) May 31, 2022
Experience with insurance carriers and managing strategy and innovation efforts for large organizations will aid future GIA cohorts
The Global Insurance Accelerator (GIA) is pleased to announce Dan Israel will join the GIA on May 31 to begin transitioning to the Managing Director role of the organization.
Israel will work alongside current Managing Director, Nicole Gunderson, to successfully complete a seamless hand-off of GIA activities and prepare for the fall selection of the 2023 cohort. His background includes expertise in managing detailed and complex relationship growth, guiding strategic projects with key deliverables, and strategic business case development with various industries most recently in insurance and finance. His previous role as Director – Enterprise Strategy and Innovation at Principal Financial Group, an investor in the GIA, has provided him the opportunity to be involved with the Accelerator and witness its operations.
"I've been able to see first-hand the positive impact the GIA has both on the cohort firms, which it helps to grow and expand, as well as the benefit to the corporate strategic partners," said Israel, incoming Managing Director. "The GIA fills a niche role in the insuretech market that allows it to bring together both innovative founders and strategic corporate partners to enhance both groups' opportunities for growth. This unique opportunity will allow me to expand on my experience leading innovation teams to build a strategic partner base as well as provide continued strong support to the founders, who are integral to the GIA's success."
Israel began his career in finance with Rolls-Royce North America and then Target Corporation where he led financial analyst teams in providing strategic financial planning and decision-making for senior management. He joined Principal Global Investors to provide key strategic and financial support for several of their asset management firms and most recently worked with Principal Financial Group on enterprise strategy and innovation. Israel holds an M.B.A in Management & Strategy and Finance from Kellogg School of Management at Northwestern University and a B.B.A in Finance and Economics from the University of Iowa.
"The GIA has built a leading insurtech program focused on mentor support for our cohort start-ups, helping them accelerate their ideas in 100 days and develop viable solutions for insurance companies," said Dave Wingert, Executive Vice President of Grinnell Mutual and board chair for the GIA. "Dan's experience directing strategy and innovation at Principal Financial Group will provide insights into further expanding ways insurance carriers can engage even deeper with cohort members."
Nicole Gunderson will continue to assist the GIA through the summer, working with Dan Israel as part of a comprehensive transition plan that promotes continuity for the GIA, the annual 100-day accelerator program, and the GIA's alumni.
For information on becoming an investor, mentor, or program advisor for the GIA, please visit http://www.globalinsuranceaccelerator.com.