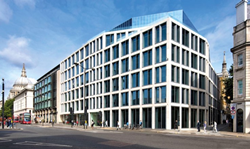 NEW YORK (PRWEB) September 12, 2019
Global Relay, the leading provider of compliance archiving, supervision, eDiscovery, analytics and messaging for the financial sector, is delighted to announce it has expanded its global footprint to include a 40,000 square foot (3,716 square metre) London office. This new state-of-the-art facility situated in London's financial district contains three conference centers and a spacious auditorium specifically designed to engage local and regional business leaders. Global Relay looks forward to sharing this space to discuss their future vision and the industry's evolving regulations and best practices.
About Global Relay
Global Relay is the leading provider of cloud-based electronic message archiving, supervision, and eDiscovery solutions for the global financial sector and other highly regulated industries. Global Relay delivers services to over 23,000 customers in 90 countries, including 22 of the top 25 banks. Global Relay Archive supports email, IM, Bloomberg®, Refinitiv (formerly Thomson Reuters), social media, mobile messaging, and more - with mobile, Outlook, and web access.
info(at)globalrelay(dot)net | 866.484.6630 | http://www.globalrelay.com/