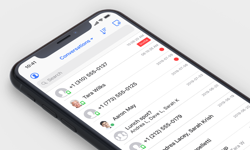 NEW YORK (PRWEB) September 17, 2019
Global Relay, the leading provider of compliance archiving, supervision, eDiscovery, analytics and messaging for the financial sector, is pleased to announce that its Global Relay Message community grew by 338% in Q2, 2019. Global Relay Message – a free, collaborative instant messaging platform – was developed to meet the compliance, communication, and collaboration needs of financial services firms and highly regulated industries. Global Relay Message features built-in compliance, privacy, and security tools through its integration with Global Relay Archive. The Message Community's phenomenal growth reflects the industry's recognition of the value and importance of Global Relay Message.
About Global Relay
Global Relay is the leading provider of cloud-based electronic message archiving, supervision, and eDiscovery solutions for the global financial sector and other highly regulated industries. Global Relay delivers services to over 23,000 customers in 90 countries, including 22 of the top 25 banks. Global Relay Archive supports email, IM, Bloomberg®, Refinitiv (formerly Thomson Reuters), social media, mobile messaging, and more - with mobile, Outlook, and web access.
info@globalrelay.net | 866.484.6630 | http://www.globalrelay.com/