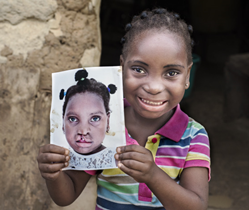 Since its founding in 1982, Operation Smile has helped more than 346,000 people receive life-changing surgical and dental care.
VIRGINIA BEACH, Va. (PRWEB) October 07, 2022
World Smile Day is held every year on the first Friday of October. Created by Harvey Ball, the inventor of the smiley face, World Smile Day is a day devoted to spreading smiles and kindness throughout the world. At Operation Smile, dedicated medical volunteers from all over the world come together to spread happiness and kindness by providing life-changing cleft surgery and comprehensive care to patients living in countries of need.
In 2022, Operation Smile conducted 151 surgical programs in 28 countries. Over the years, Operation Smile has established 35 permanent care centers in 20 countries so local medical volunteer teams are able to provide exceptional care while operating under stringent safety protocols. Through the continuous development of these comprehensive care centers and providing training and education opportunities, Operation Smile aims not only to treat patients living in under-resourced communities but to improve how global health systems provide care for the long term.
These 35 comprehensive care centers provide patients with dental care, speech therapy, psychosocial care, nutritional support, and more to assist in their cleft condition treatment beyond reconstructive surgery. This ongoing care ensures that Operation Smile patients can realize healthier and brighter futures and opens up a world of opportunity.
During those 151 surgical programs and at its care centers around the world, Operation Smile medical volunteers provided approximately 40,000 patients with more than 151,000 specialty consultations including surgical and comprehensive care services. Of those patients, Operation Smile provided 20,776 with surgery and dental care at medical programs, care centers, and partner hospitals. Since its founding in 1982, Operation Smile has helped more than 346,000 people receive life-changing surgical and dental care.
This year, the organization celebrates 40 years of spreading smiles and forming long-lasting relationships with partners, patients, and volunteers all over the world. As it looks to the next decade, the organization is working toward an ambitious goal of providing access to care for 1 million patients. And after four decades of service and over 6,000 passionate and dedicated medical volunteers supporting the mission of Operation Smile, the organization is poised to extend its impact well into the future.
About Operation Smile
Operation Smile is a global nonprofit specializing in expert cleft surgery and care. Over the last 40 years, we have provided medical expertise, research, and care through our dedicated staff and medical and student volunteers around the world, working alongside local governments, nonprofits, and health systems, and supported by our generous donors. Learn more at https://www.operationsmile.org/ or by following @operationsmile on social media.
###