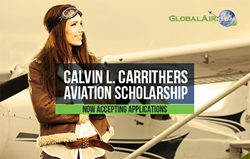 Last year's success, our best year so far, developed applications from over 60 students from 40 colleges and universities.
Louisville, KY (PRWEB) April 12, 2017
In its third year, the Globalair.com Calvin L. Carrithers Aviation Scholarship blog writing scholarship is now open for applications. The scholarship is for any American student enrolled in an accredited University/College Aviation Program for the 2017-2018 school year. Four students will be accepted into the program that entails writing weekly blogs sharing their flight training or aviation management experiences while being awarded a scholarship of $250 twice a semester, equaling a total award of $1,000. The scholarship funding goes towards flight fees and progressing in their training.
Jeff Carrithers, President and CEO of Globalair.com, explains, "We want to give support to college students who have chosen the aviation industry as their career, as well as provide them a way to share their experiences with their peers in the industry. I believe it is extremely important for them to have a way to introduce themselves to the industry and begin networking now as they initiate their careers in such a fast-paced field."
"Last year's success, our best year so far, developed applications from over 60 students from 40 colleges and universities. Their weekly blog posts helped them to reflect on their training, and share advice and ideas with fellow pilots. It was amazing the transformation of their writing skills from the beginning of the school year until now. The knowledge level of their individual areas also grew to where they are actually looking like technical writers in some cases," Carrithers continued. 2016 beneficiaries included students from Mississippi State (Jared Martin), University of Oklahoma (Cameron Morgan), Western Michigan University (Shawn White) and Parkland College (Emily McCrone). Tori Patterson, curator of this year's scholarship program, was a recipient in 2015.
The application process for the program involves a short essay in which applicants must explain their interest in the career path they have chosen and how they plan to work towards completion; a letter of recommendation and proof of enrollment must be submitted as well. Scholarship recipients will be chosen based on these qualifications. They will be notified by mid-August if they have been selected and shown how and when their blogs officially begin. The GlobalAir.com Scholarship Team is welcoming any qualified and passionate aviation student to apply before August 10th to be considered for the opportunity.
You can access the application page at: https://www.globalair.com/scholarships/.
Colleges or students that would like more information about the program can email Tori Patterson at Tori(at)GlobalAir.com. Any questions or comments will be responded to in a timely manner. We are looking forward to working with the next generation of Aviation Professionals!
---
Based in Louisville, Kentucky, GlobalAir.com serves the general aviation, business aircraft, and regional airline communities by offering clients and online visitors a wide range of premium aircraft and aviation-related data and services. Services offered by GlobalAir.com include Aircraft Exchange which lists aircraft for sale or lease, Airport Resource Center (ARC) that displays U.S. airport data, Aviation Directory and Aviation Events both containing thousands of companies and events. GlobalAir.com's website receives more than 160,000 unique visitors per month and help connect the aviation industry. For more information regarding GlobalAir.com, visit http://www.globalair.com, e-mail Ray Robinson at ray(at)globalair.com, or call 502-456-3934.