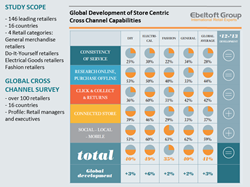 US and UK retailers lead the way, showing the highest level of cross channel development.
(PRWEB) April 15, 2014
"The Global Cross Channel Retailing Report: Entering The Omnichannel Era" provides the synthesis of Ebeltoft Group´s exclusive Global Cross Channel Survey, including retail executives perspective as to their perception and future cross channel development.

Click and Collect, the corner stone for cross channel retailing, is evolving; 64% of the retailers audited have this capability in place (versus 53% in `12).
Social-Local-Mobile (SoLoMo) cross channel capabilities show the highest level of development (59%).
Connected store capabilities improved (+15% compared to ´12) yet remain a challenge with a moderate level of development (37%).
80% of retailers agreed that "Cross channel is one of their main priorities". US and UK retailers lead the way, showing the highest level of cross channel development.
Some of the big international retailers included in the study are De Bijenkorf, Courts, Conrad, Marks & Spencer and Mango.
US Retailers Call Out: Some of the big US retailers in the study include Best Buy, Nordstrom, Gap, Sephora, Home Depot, and Walmart.
The study uses Ebeltoft Group's Cross Channel Benchmark Framework, organized into five core areas and 29 cross channel capabilities integrated into the retailers' operations. The included table summarizes the global scoring, by retail sector, based on the framework.
Countries included in the study are Brazil, Canada, Denmark, France, Germany, India, Italy, the Netherlands, Portugal, Romania, Singapore, Spain, Sweden, Switzerland, the United Kingdom and the United States.
The synthesis will be available on the McMillanDoolittle and Okamura Consulting websites.
Okamura consulting focuses on retail strategy and cross channel integration. We align ecommerce and digital channels with stores and other customer touch points to enable each channel to perform optimally for the customer and the client.
McMillanDoolittle, LLP is a retail consulting firm based in Chicago, IL. As retail experts, McMillanDoolittle has worked with many of the world's leading retailers, suppliers and investors in retail strategy, concept design, customer experience, performance improvement and research programs.
Ebeltoft Group is a worldwide alliance of retail consulting companies with members operating in more than 20 countries in both mature and emerging retail markets.