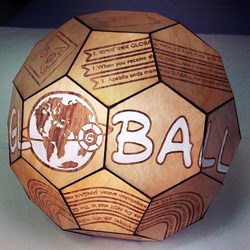 Connectivity is an act of service.
Bushwick, New York (PRWEB) November 13, 2013
Brooklyn-based conceptual artist Oliver Warden known for dazzling paintings of overlaid maps and patterns and his participatory performance pieces is excited to announce the launch of his new art project GLOBALL.
"GLOBALL is an art experiment that starts with seven beautifully made wooden balls with the intention of passing them, hand to hand, person to person, around the world. Each of the seven balls uses wood sourced from one of the seven continents," according to Oliver Warden, GLOBALL's founder.
"GLOBALL seems to combine aspects of performance art, social media, chain letters, mass gift-giving and something like a Guinness World Record attempt." - Benjamin Sutton of BLOUIN ARTINFO
There is an Indiegogo campaign to raise funds to make the GLOBALLS which runs until November 26th. The perks offered stem from TED speaker Rachel Sussman's renowned photographic series The Oldest Living Things in the World to fair-trade company Craftspring, which works with women business owners in Kyrgyzstan.
On each of these balls will be the instructions of what to do in three major languages and in pictograms. The instructions tell you to:
1. Photograph yourself with the GLOBALL. 
2. Upload your pic to http://www.wheresgloball.com along with your name, location and time.
and  
3. Fill out a GLOBALL profile, connect with other GLOBALLers and track your GLOBALL as it circles the globe. 
4. Pass the GLOBALL to a VERY GOOD FRIEND. It cannot be mailed.
GLOBALL hopes to make In-Real-Life connections while re-defining terms, such as "share", "friend" and "follow." If a person only gets one GLOBALL, they need to ask themselves who they are truly connected to. That meaningful interaction is what GLOBALL is all about.
Oliver Warden, Creator of GLOBALL
For the last 20 years, Brooklyn based artist Oliver Warden has been making art that asks questions about interactivity and connection. His mediums spans painting, video-game landscape photography and interactive performance. GLOBALL is his latest attempt to explore those topics and use social networking as its medium.
"Connectivity is an act of service" - Ryan Manchester, from We Are The Wilderness in response to GLOBALL.