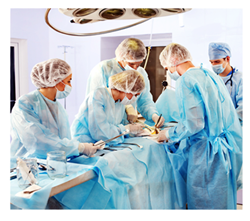 Stem cells provide the ability to rejuvenate and heal, making them a natural treatment for cosmetic and anti-aging applications.
MIAMI (PRWEB) September 02, 2016
Global Stem Cells Group and its subsidiary Stem Cell Training, Inc. will host a stem cell training course in Ransbeck, Begium Nov. 14 – 15, 2016 in collaboration with Didier Potdevin, M.D., a specialist in integrative cosmetic and aesthetic medicine.
The stem cell training course, available to qualified physicians, will focus on stem cell protocols in cosmetic, anti-aging, and aesthetic procedures.
The Adipose and Bone Marrow Stem Cell Training Course was developed for physicians and high-level practitioners to learn the process of harvesting, isolating, and re-integrating adipose stem cells for aesthetic medicine applications.
Potdevin will host and participate in the two-day, intensive, "hands-on" training of qualified physicians in stem cell techniques and protocols, during which stem cells are harvested and isolated from the patient's own body, and redistributed to areas of the body receiving augmentation. When used in aesthetic medicine therapies, patients walk away with more natural-appearing augmentation and enjoy a faster recovery period with little to no downtime.
Stem cell therapy is a promising treatment for facial rejuvenation and soft tissue augmentation, and Potdevin was one of the first physicians in Belgium to use a combination of fat tissue and platelet concentrates in facial rejuvenation techniques. Because there are no incisional scars or complications associated with foreign materials, demand for stem cell cosmetic procedures is high. And since stem cell procedures do not involve going under the knife, more patients are requesting these new, non-invasive therapies.
Stem Cell therapies also fit in well with Potdevin's philosophy of applying multi- and trans-disciplinary medicine to mobilize and empower his patients.
According to Global Stem Cells Group CEO Benito Novas, patients are seeking more natural results from cosmetic procedures, with a quicker recovery time. Stem Cell aesthetic treatments offer both, since they are non-invasive.
"Non-surgical cosmetic procedures have grown exponentially over the past five years, and the trend is expected to continue to rise, "Novas says. "Stem cells provide the ability to rejuvenate and heal, making them a natural treatment for cosmetic and anti-aging applications."
The stem cell training course will be offered through Global Stem Cells Group affiliate Stem Cell Training, Inc.
To learn more about the stem cells training course in Belgium, visit the Global Stem Cells Group website or the Stem Cell Training website, email bnovas(at)stemcellsgroup(dot)com, or call +1 305 560 5337.
About Global Stem Cell Group:
Global Stem Cells Group is the parent company of six wholly owned operating companies dedicated entirely to stem cell research, training, products and solutions. Founded in 2012, the company combines dedicated researchers, physician and patient educators and solution providers with the shared goal of meeting the growing worldwide need for leading edge stem cell treatments and solutions. With a singular focus on this exciting new area of medical research, Global Stem Cells Group and its subsidiaries are uniquely positioned to become global leaders in cellular medicine.
About Stem Cell Training, Inc.:
Stem Cell Training, Inc. is a multi-disciplinary company offering coursework and training in 35 cities worldwide. The coursework offered focuses on minimally invasive techniques for harvesting stem cells from adipose tissue, bone marrow and platelet-rich plasma. By equipping physicians with these techniques, the goal is to enable them to return to their practices, better able to apply these techniques in patient treatments.
###