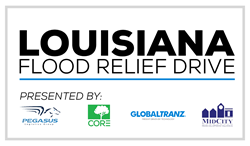 The GlobalTranz community wanted to help those impacted by this tragedy.
Phoenix, AZ (PRWEB) September 13, 2016
"The storm affected many homes in Louisiana. The flood produced devastation that has displaced many families and businesses. The GlobalTranz community wanted to help those impacted by this tragedy. Our team made contact with Mid City Redevelopment Alliance, Inc. in Baton Rouge to receive and distribute donations," said Chris Kyriakopoulos, Credit Manager at GlobalTranz.
Mid City Redevelopment Alliance is a local non-profit in the heart of Baton Rouge. Mid City has been working to revitalize Baton Rouge's city center for 25 years. They were founded by a local hospital and over the years have distinguished themselves as a leader among the non-profit community.
"To help in our efforts, GlobalTranz partnered with Pegasus Logistics to load and transport donations from Arizona to Louisiana. Pegasus Logistics, a veteran in the logistics industry for over 20 years, jumped at the chance to partner with us to help the victims of Louisiana," said Grant Glasser, Vice President of Carrier Operations at GlobalTranz
GlobalTranz, located at 7350 N. Dobson Rd. in Scottsdale, across from Talking Stick Resort, will be accepting donations for Louisiana relief efforts from 7am-4pm Monday through Friday through September 16th. Items in need are:

Bleach
Water
PowerAde
Gatorade
School Supplies
Toiletries
Gutting tools: sheetrock cutters are in desperate need, crowbars, hammers, 5 gallon buckets, wheelbarrows, thick work gloves, fungicide cleaning agents (Shockwave, Concrobium & Sterifab are being recommended), utility knives & replacement blades, brooms & dustpans, shop vacs, string lines, drywall screws, levels, and rags.
Big items may be harder to come by, but are also needed:
1/2 inch sheetrock
Tape
Bat insulation
Flooring
Sheetrock mud
Appliances (stove, refrigerator, dishwasher)
Feel free to contact Chris Kyriakopoulos at 480.339.5890 if arrangements outside of the donation hours are needed.
About GlobalTranz
 
GlobalTranz is a technology-enabled logistics company specializing in freight management services including LTL, Full Truckload, Supply Chain Management, and Domestic Air/Expedited shipping. Their team focuses on innovative technology and partnering with sales professionals that possess energy, insight, and a fervent customer service mentality.
 
GlobalTranz has created a one-stop-shop for its customer base of over 25,000 shippers. In 2016, Transport Topics Announced GlobalTranz as the 12th Largest Freight Brokerage Firm in the US. GlobalTranz is a leading company in the $157 Billion Dollar third-party logistics industry, with annual revenue exceeding $500M and growing every year. GlobalTranz currently has 500+ employees and is growing rapidly.
Pegasus Logistics Group
Global Headquarter Offices
306 Airline Drive, Suite 100
Coppell, TX, 75019
United States (US)
Toll Free: 800-997-7226
https://www.pegasuslogistics.com/
Mid City Redevelopment Alliance, Inc.
419 N 19th Street, Baton Rouge, LA 70802
225.346.1000 x205
http://www.midcityredevelopment.org