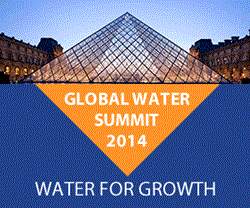 The opportunities are now in unconventional oil and gas, Africa's economic renaissance, emerging markets which have long since out-grown their legacy infrastructure, new financial models, and new approaches to performance in the utility sector.
Oxford, UK (PRWEB) February 16, 2014
The Global Water Summit - Water for Growth convenes at the Marriott Rive Gauche hotel in Paris, France, on 7th and 8th April 2014. Hosted by Global Water Intelligence* and the International Desalination Association** the conference is the major annual business meeting for international water leaders and top executives from water-using industries.
Key speakers include guest counter-insurgency expert Dr David Kilcullen, CEO, Caerus Associates. Kilcullen, an ex-soldier with first-hand experience of conflict, now runs a strategic design consultancy focussing on the overlapping problems of conflict, climate change, energy, health and governance. He will argue that access to water is one of the forces shaping the future of armed conflict and as a leading counter-insurgency expert will explain the threats to our communities.
David Korenfeld, key water industry speaker (to be confirmed), is Director of the Comisión Nacional del Agua (CONAGUA) in Mexico, where its fast growing economy is putting severe pressure on limited water resources. He will outline strategies and remedies that are relevant worldwide.
William Ambrose, Head of Global Risk with Norges Bank Investment Management, will explain why one of the world's largest investors wants corporations to pay more attention to water.
Gail Klintworth, Chief Sustainability officer with Unilever, will speak about making a business out of being good: can big corporations align environmental commitment with growing profitability?
Whilst environmental academics argue over the causes of climate change, municipalities and businesses are dealing with more water crises than ever before; stakeholders need rapid and innovative solutions; investors are looking for solid, long-term returns. However, growth in the water sector over the past five years has proved a slow and painful process. "Most businesses operating in the international water sector are still finding the market harder than it was before the crash," says Christopher Gasson, publisher of Global Water Intelligence magazine. "That's because competition has increased in their traditional markets, while the growth opportunities have moved to new areas."
The Summit is devoting a major part of its programme to water in industry, inviting participants from food and beverage, pharmaceuticals, energy and other water-using industries. Throughout the agenda they will be invited to share key initiatives that could lead to sustainability programmes adding value rather than draining the bottom line. In addition to the water stewardship challenge, the Summit introduces a new initiative, 'the Zero Impact Project', in which participants will play a key part in the project's development. Other topics will include industrial wastewater in China, water management in mining and wastewater and reuse in Latin America.
An international cast of speakers is being curated to cover a broad range of topics, including:
Veronique Hervouet, Senior VP Investments, Total Energy Ventures, France
Mike Ballard, Senior Director Utilities Strategy (EMEA), Oracle, UK
Fadila Ben Ousmane, Head of Wastewater, Office National de l'Electricite et de l'Eau Potable (l'ONEE), Morocco
Taqsem Khan, Managing Director, Dhaka Water Supply and Sewerage Authority (DWASA), Bangladesh
Nisha Singh, Mission Director, JNNURM, India
Nyomi Wai, Managing Director, WAI International Co Ltd, Myanmar
Omar Bravo, Deputy Manager, PDVSA, National oil company, Venezuela
Piers Clark, Commercial Director, Thames Water Utilities, UK
Virgilio Rivera, Group Director, Corporate Strategy and Development, Manilla Water, Phillipines
Walter Van Damme, CEO, Kardan Water, China
Jean-Michel Herrewyn, Executive Vice President, Veolia Global Enterprises, France
Professor Abdulmonem Ali Elhassadi, Chairman, General Desalination Company of Libya (GDCOL)
Felix Ockborn, Corporate Social Responsibility Program Development, H&M, Sweden
Louise Nicholls, Head of Responsible Sourcing, M&S Foods, UK
Richard Fox, Sustainability Director, Finlays, Kenya
Bea Buyle, Principal Scientist & Water Council Leader, Proctor & Gamble, Belgium
Stuart Lowthian, Global Technical Director, Bacardi, Switzerland
Khalil Attia, CEO, Office National de l'Assainissement (ONAS), Tunisia
Jean-Marc Jahn, CEO, Société des Eaux et de l'Assainissement d'Alger (SEAAL)
Other items on the 2-day programme are the Water Technology Idol competition for emerging technologies, the ever-popular 40 round-table sessions and individual networking meetings.
The Summit's aim, to connect the private and public sectors and include all businesses that depend on water, will provide some clarity for executives struggling with less budget, increased regulation and urgent development targets. "It is an exciting time, but also a confusing time," continued Mr Gasson. "The opportunities are now in unconventional oil and gas, Africa's economic renaissance, emerging markets which have long since out-grown their legacy infrastructure, new financial models, and new approaches to performance in the utility sector. The Global Water Summit in Paris is there to help you make sense of the future, and to ensure that you are part of it."
On the evening of Monday 7th Her Excellency Ellen Johnson Sirleaf, President of Liberia and Nobel Laureate, is the guest speaker at the Global Water Awards gala dinner ceremony. The Awards acknowledge the most important achievements in the international water industry for the previous year. See http://www.globalwaterawards.com for full details.
The Global Water Leaders' Group, a not-for-profit organisation, will be holding its Spring meeting at this event. It is concerned with the development and implementation of practical answers to the world's water issues and works with CEOs from across the industry. http://www.globalwaterleaders.org has full details.
A limited number of press passes and further information are available from:
Ruth Newcombe
rn(at)globalwaterintel(dot)com
Global Water Summit
***
Global Water Intelligence (GWI) researches and publishes business data and information about the water markets worldwide. Based in Oxford, UK it also has offices in Singapore and USA (Austin, Texas) and has researchers and office staff in many other countries. It publishes three subscription titles and a free weekly GWI Briefing email (http://www.globalwaterintel.com/accounts/mailinglist/) and around four individual reports per year on particular water sectors/geographic regions. It also organises two major financial conferences for the water industry each year: the American Water Summit in Autumn and the Global Water Summit in Europe in Spring (Paris 2014). GWI was awarded the Queen's Award for Enterprise in 2011.
+44 1865 204208
http://www.globalwaterintel.com
**International Desalination Association (IDA)