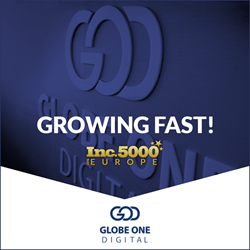 Athens, Greece (PRWEB) March 17, 2016
Moreover, Globe One Digital ranks 1st in Greece and 5th in Europe for Advertising & Marketing, occupying a very comfortable 2nd place amongst the 98 Greek companies included in the top fastest growing private companies in Europe.
The list, which endorses thriving private companies, highlights one of the most important sectors of the European economy. Over the years, Inc. Magazine's list has provided the early exposure companies from around the world have used to make establish their brands as household names and benchmarks for excellence in their fields – among them Microsoft, Zappos, Clif Bar, Intuit, Chobani, Zipcar, and Oracle.
Founded in 1979, the New York based business and financial news brand, Inc. Magazine, reaches a total audience of approximately 13,000,000. With a dedicated readership of today's most energetic and dynamic professionals, Inc. Magazine offers the world's top corporate CEOs and owners global perspectives from dedicated and acknowledged experts.
Against the backdrop of sluggish economic circumstances, and an unbridled competitive business environment, Globe One Digital welcomes this recognition of our hard work and dedication. This recognition not only reaffirms the significance of innovative solutions and entrepreneurial spirit, it also attests to our motivation to channel that creativity and energy to remain among the Europe's premium Intelligence Performance Marketing companies.
Since 1997, Globe One Digital has delivered high quality, performance marketing services in all aspects of digital media. We deliver complete digital advertising experiences, drawing from our vast experience in digital planning, website design and development, PPC marketing, platform operations, social media and overall web communications. Our clients include but are not limited to: Coca-Cola HBC, BMW, Grecotel, Husqvarna, LG, Lufthansa, Media Markt, Olympic Games, Sony, Mullen Lowe and WPP Group.
For more information on the "2016 Inc. 5000 Europe" list, visit the Inc. Magazine webpage.