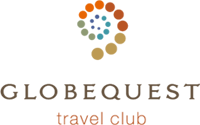 CABO SAN LUCAS, Mexico (PRWEB) September 23, 2015
GlobeQuest Timeshare knows there is not a better place to watch the sun make its way from horizon to horizon than in Cabo San Lucas. Situated where the Sea of Cortez meets the mighty Pacific Ocean, this once sleepy village became known for its incredible off-shore sport fishing, and later for its white, sandy beaches.
Visitors here who are looking to experience a breathtaking view of both the sea and the Baja Peninsula can take advantage of one of the numerous sunset cruises in Cabo San Lucas. Whether guests are traveling with their families, as a couple, or with a bunch of single friends, GlobeQuest Timeshare says there is a cruise for everyone.
Dinner and dancing: Those people who want to avoid a more rowdy "booze cruise" can try the roomy CaboMar Fiesta Dinner Cruise. The CaboMar takes guests for a two-and-a half-hour ride along the coastline of Cabo San Lucas to Lover's Beach and Land's End before heading out to the Pacific. GlobeQuest Timeshare shares that while on the cruise passengers can enjoy a beef and chicken taco bar with guacamole, homemade salsa, rice and beans and tropical drinks. To work off the post-dinner calories, guests can dance the night away on the upper deck to Latin rhythms and top 40 songs. Tickets are $59 USD for adults, while kids ages 5-11 pay half price. Children 5 and under may cruise for free.
Relaxation: The Escape the Sun Cabo Sunset Cruise offers a two-hour ride on a spacious catamaran. Departing daily at 6 p.m., the high-powered catamaran has two spacious decks so guests never feel crowded. Adults are served "welcome cocktails" as the catamaran takes off, while the chef prepares authentic beef and chicken fajitas. Later in the evening, a DJ plays smooth sounds while passengers witness the sky turn from cobalt to orange and pink. Adult tickets run $59 USD. Tickets for kids 5 to 12 cost $29.50, while children age 4 and under are free. GlobeQuest Timeshare shares that passengers who would like to drink a bit more may pay an extra $10 to enjoy an open bar.
Booze cruise: GlobeQuest Timeshare guests who are 18 and older may opt for a louder, more raucous experience. The Jungle Reggae Booze Cruise offers a chance for what they call a "wild, crazy, fun" time for just $35. Revelers can enjoy views of a spectacular sunset while having access to unlimited drinks. Dance and reggae music will play aboard the crowded catamaran, while people enjoy beer bongs, body shots and drinking games. This cruise tour departs daily at 6 p.m. and returns at 8 p.m. during the spring and summer, while in fall and winter it departs at 5 p.m. and returns at 7 p.m.
The GlobeQuest Travel Club was designed for the modern traveler and provides a wide variety of luxurious vacation destinations along with several world-class leisure benefits. With the GlobeQuest memberships, unforgettable vacation experiences can be planned over the phone with a live Vacation Expert or just the click of a button on the member-only GlobeQuest website. GlobeQuest makes building travel experiences easy and enjoyable by providing everything needed to Travel Your Way. GlobeQuest was founded by Grupo Questro and GBS International. Since 1985, Grupo Questro has mastered the development of ecologically responsible, world-class hospitality projects that set the standard for their class. Established in 2002, GBS International supports Grupo Questro by providing personalised resort management and customer care functions.
For more information about Los Cabos and GlobeQuest visit http://www.globequesttravelclub.com.
###
1-877-610-6300
memberservices(at)globequesttravelclub(dot)com
Press release distributed by JW Maxx Solutions, a leader in content management solutions and part of a family of companies that includes Enterate Ahora.