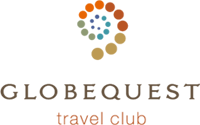 Miami, Florida (PRWEB) February 13, 2014
GlobeQuest knows that when it comes to traveling to another country, travelers should always be wary and guard their most private personal information. It is a no-brainer to make sure that all valuable items such as licenses, passports and other travel documents be kept on one's person in a safe and secure place such as around one's neck. When it comes to other sensitive information, oftentimes travelers become lax, signing into unprotected Internet connections because they do not want to pay the exorbitant fees that many mobile providers charge.
Globe Quest reminds travelers to never sign into an unsecured Internet connection when in another country, as the Wi-Fi scam is a common scam seen around the world. Signing into these unsecured and unrestricted connections to look up information such as hotel reservations, bank account information, emails and more makes travelers an easy target for cyber predators. These technology experts have devised ways to record both login and password information when users enter it on their mobile and other devices on an unsecured network.
While this is a scary prospect, there are many ways that travelers can still use the Internet safely when overseas. One of the best pieces of advice that GlobeQuest tells its members is to refrain from using any account that requires personal information if at all possible. If a bank account needs to be checked, it is much better to find a branch of that bank and inquire about the balance in person. As far as emails go, let others know that you will be out of the country and will be unable to access your mail with an automatic message.
If it is completely necessary to access information and these accounts, Globe Quest recommends utilizing the secure Wi-Fi connection that is most likely offered at whichever resort or hotel that travelers are staying in. A secure network connection is one that requires a password that is not prominently displayed, and one that is only given out to guests. While this is not a sure-fire way to keep your information safe, it is much less likely that cyber-predators will be targeting travelers on a secure network.
For more safety tips and information on how to keep safe while traveling, as well as information on the latest scams that are popular in the travel industry, contact the luxury vacation providers at GlobeQuest today.
GlobeQuest Contact Information:
1-877-610-6300
memberservices(at)globequesttravelclub(dot)com
https://www.globequesttravelclub.com
******
Press release distributed by JW Maxx Solutions, a leader in online reputation management and part of a family of companies that includes Prensa Ahora and Enterate Ahora.