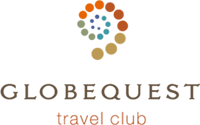 Miami, Florida (PRWEB) February 26, 2014
GlobeQuest Travel Club, an industry-leading vacation provider, is proud to announce that it has donated a week to the breast cancer survivor charity, Send Me On Vacation. Globe Quest is excited for this opportunity to change the lives of women who have undergone treatments for breast cancer.
Send Me On Vacation is a 501 (c)(3) non-profit organization that sends women who have been financially, emotionally, and physically devastated by the effects of breast cancer treatments on vacations and getaways to rejuvenate their mind, body and spirit. Last year, the charity sent 18 deserving women on the vacation of a lifetime, and Send Me On Vacation hopes to double this number to send 36 women on vacations this year.
Globe Quest Travel Club is extremely excited to be able to support this charity that does such an incredible job of helping these women to start the healing process after they have completed treatment for breast cancer. With the donation of a week's stay at Casa Dorada Cabo Real, a deserving woman will be able to clear her mind, start to move forward from the trauma that breast cancer treatment brings, and look ahead to enjoying the rest of her life.
GlobeQuest Travel Club maintains a strong sense of corporate responsibility and donates to several different charities and worthy causes throughout the year. The company realizes that while it provides outstanding deals to top destinations in Mexico and around the world for its members, it also has a corporate responsibility to assist those in need in the community as well as around the world. Globe Quest strives to make a positive impact in the world, and with the donation of a week at one of its luxury home resorts, one person's life will be forever changed.
Globe Quest Travel Club looks forward to donating to more worthy causes throughout the year, as good corporate citizenship is of the utmost priority to this luxury vacation provider. For more information about the charitable efforts of GlobeQuest or to become a member of this exclusive travel club, head to http://www.globequesttravelclub.com For more information about Send Me On Vacation, visit http://www.sendmeonvacation.org.
GlobeQuest Contact Information:
1-877-610-6300
memberservices(at)globequesttravelclub(dot)com
*******
Press release distributed by JW Maxx Solutions, a leader in online reputation management and part of a family of companies that includes Prensa Ahora and Enterate Ahora.