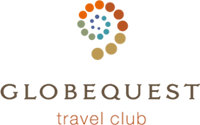 Miami, FL (PRWEB) March 24, 2014
GlobeQuest, a world-renowned leader in providing luxury getaways around the world, takes its members concerns and complaints very seriously. Not only are these statements used to improve upon Globe Quest's already stellar travel services, but they are also used as training tools in order to make sure that the same issue does not come up again for another member.
While this leading vacation provider receives very few complaints throughout the year, some members were expressing concern over the fact that they felt the company's website was hard to use. Taking immediate action, GlobeQuest is proud to announce that its new website is up and running, and is more user-friendly than ever before.
Members of GlobeQuest Travel Club can access the member portal by logging in with a custom username and password. Once into the site, members have anything they could possibly need right at their fingertips. The highlight of the website, and one of the reasons why Globe Quest is widely regarded as one of the best in the industry, is the eConcierge service.
The eConcierge service allows GlobeQuest members to book their dream vacations wherever they want around the world, while taking advantage of unbeatable savings. Members are even able to check out the many destinations that Globe Quest recommends for travelers to get away to including locations in Mexico, the United States and much more.
Want to book a spa day or a round of golf at a premier course? The eConcierge is the perfect, easy-to-use tool for members to utilize when planning their next vacation. Members can also use the eConcierge to set up transportation services from the airport to their destinations as well as to book rental cars at exclusive rates.
With all of these improvements to this all-new website, GlobeQuest complaints are at an all-time low. Members are happier than ever with their incredible accommodations as well as the level of ease with which they were able to book their getaways. GlobeQuest encourages interested travelers to call this top travel club today in order to take advantage of all the outstanding deals that this luxury vacation provider has to offer. For more information, contact Globe Quest today.
1-877-610-6300
memberservices(at)globequesttravelclub(dot)com
https://www.globequesttravelclub.com
*******
Press release distributed by Reputation Maxx, a leader in online reputation management and part of a family of companies that includes Prensa Ahora and Enterate Ahora.