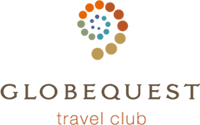 Miami, Florida (PRWEB) April 04, 2014
Globe Quest is known around the world as a leader in providing its members with incredible accommodations to the most sought-after destinations around the world. Next week, GBS International, Inc., the customer service provider for GlobeQuest will be traveling to Las Vegas for the ARDA World 2014 convention.
This year, the American Resort Development Association's ARDA World Annual Convention & Expo will take place at the stunning Venetian Resort Hotel & Casino, located right on the Las Vegas Strip from April 6-10. Time and time again, ARDA brings together leaders in the areas of vacation ownership, travel fulfillment, resorts, hotels, timeshare and other areas of the travel industry. ARDA World 2014 is expected to host more than 3,000 attendees from over 35 countries around the globe.
ARDA World is an incredible conference where the biggest players in the industry can meet, discuss the year's developments, plan ahead to the future and network at ARDA's one-of-a-kind exhibit hall. GBS International, Inc. will be one of the many exhibitors that will be at ARDA this year.
Throughout ARDA World 2014, there will be several keynote speakers who will be covering topics that pertain to the industry as a whole. Key speakers from some of the biggest companies in the world will be sharing insight into how they achieved success, what works, what does not work and how companies can improve their operations to be more profitable.
GBS International, Inc., is known throughout the travel industry for providing its members with memorable and unique vacation ownership experiences wherever they desire to travel to. GBS's innovative and forward-thinking personalized concierge service is truly unique, and affords members an easy-to-use booking experience every time they travel for all of their vacation-related needs.
The GBS difference is the fact that members can stay in premium accommodations for less than it would cost for a hotel room. These luxurious accommodations feature many top amenities that cannot be found in most hotel rooms including washer and dryers, full kitchens, dining areas and more.
Globe Quest is proud to be serviced by this top customer service provider, and looks forward to many more years of a continued partnership. For more information about GlobeQuest and its incredible vacation ownership opportunities, visit http://www.globequesttravelclub.com
1-877-610-6300
memberservices(at)globequesttravelclub(dot)com
*********
Press release distributed by Reputation Maxx, a leader in online reputation management.