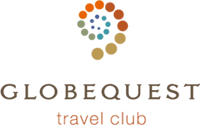 Miami, Florida (PRWEB) April 07, 2014
GlobeQuest Travel Club strives to provide only the best for its members: the best accommodations, the best locations, and the best deals. The same goes for its customer service, which is run by the globally renowned, GBS International, Inc. This year, GBS is nominated for an ARDA award in the Sales and Marketing Division.
Every year at the American Resort Development Association's ARDA World Convention, awards that span a wide range of topics are given to the leaders in the resort development and vacation ownership industries. ARDA World is expected to draw over 3,000 attendees from countries around the globe to convene in the Venetian Hotel in Las Vegas from April 6-10.
The award that GBS International, Inc. is nominated for is in the Sales and Marketing Division Category 14A of a call center with fewer than 250 agents. GBS is honored to have been nominated for this prestigious award, as the company takes much pride in the customer service that it provides for Globe Quest Travel Club's members. GBS strives to make sure that every individual is met with the utmost respect, courtesy and care when dealing with whatever issue they may be facing.
ARDA World is an exciting time for all of those in resort development, as it is one of the biggest and most well known conventions in the industry. With over 40 different workshops that inform, educate and invite discussion, it is one of the premier events that professionals attend each year to keep up-to-date on everything happening in the realm of vacation ownership.
Globe Quest Travel Club shares that ARDA World also features a one-of-a-kind exhibit hall that is open every day during the convention for attendees to catch up with old friends, learn about the latest products and services, as well as to network with other vacation providers. The ARDA World convention is truly a unique experience.
For more information about GlobeQuest Travel Club and some of the top destinations around the world, visit http://www.globequesttravelclub.com today.
1-877-610-6300
memberservices(at)globequesttravelclub(dot)com
*******
Press release distributed by Reputation Maxx, a leader in online reputation management and part of a family of companies that includes Prensa Ahora and Enterate Ahora.