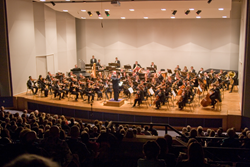 How we make our concert experiences more universally appealing and relevant is inherently multicultural and diverse...
Newport, KY (PRWEB) March 11, 2014
The Kentucky Symphony Orchestra returns to Greaves Concert Hall on the campus of Northern Kentucky University for the first time in five years, and takes a musical trip around the world. The KSO will perform ten of classical music's most well known works together with rare, yet dazzling showpieces (all under 10 minutes in length) for this fun and familiar program.
Greaves Concert Hall and the Nothern Kentucky Symphony (name changed to Kentucky Symphony Orchestra in 2001) both opened their doors in the Fall of 1992. For 17 years Greaves Hall was home for the KSO's Subscription Series and free education concerts. In the Fall of 2009, the KSO branched out to other venues taking its unique brand of culture and entertainment throughout Northern Kentucky.
Why globetrotting? Traditional arts organizations, like symphony orchestras, have struggled for years to figure out how to reflect today's emphasis on diversity without squeezing performances into the rather narrow confines of contemporary definitions, which often only mean diversity along ethnic, gender and racial lines. So, the KSO tends to broaden the definition to include diverse cultures, musical styles, artistic time periods, etc. "My programming philosophy is that varied programming remains the spice of life. How we make our concert experiences more universally appealing and relevant is inherently multicultural and diverse, given artist and composer backgrounds. Patrons always learn something new about the music and its origins at KSO concerts." says KSO Music Director James Cassidy. To that end, the KSO is taking a musical trip around the world to nine ports of call on five continents.
Our musical voyage begins in Prague with Antonin Dvorak's rollicking "Carnival Overture." Then it's off to France for Camille Saint-Säens' ghostly "Danse Macabre" with skeletal fiddling by KSO concertmistress Manami White. Remaining in Europe, the KSO ventures south to Italy for Gioachino Rossini's comic overture to La Gazza Ladra (The Thieving Magpie), followed by a return to the Czech countryside for the grand, yet folksy Polka and Fugue from Jaromir Weinberger's opera Schwanda the Bagpiper. The first half closes with a quick trip to Brazil for Zequinha de Abreu's festive, toe-tapping encore "Tico Tico No Fuba."
The second half opens with the regional premiere of Australian composer Percy Grainger's charming orchestral version of the Children's March (Over the Hills and Far Away). Coming to the U.S., Samuel Barber's School for Scandal Overture (his first orchestral composition) captures the spirit of Sheridan's clever comedy. Then it's back to Europe to catch up with Beethoven in Vienna and the overture from his incidental music to Goethe's drama Egmont. Next, a jaunt to Russia and Modest Mussorgsky's tone poem "Night on Bald Mountain," a work made world famous in Disney's Fantasia. Finally, we end our journey and disembark in jolly old England for Edward Elgar's commencement standard — though in it's complete original version — the Pomp and Circumstance Military March No. 1. That's ten selections from 9 countries, 5 continents and you'll make it in less than two hours with intermission — a package tour only available at the KSO.
Join music director James Cassidy and the KSO for a cornucopia of familiar classical showpieces at 8:00 p.m., Friday and Saturday, March 28 & 29 at Greaves Concert Hall on the campus of NKU. Tickets are $35, $27 & $19 (children 6-18 are 50% off) and are available on-line, http://www.kyso.org, by phone (859) 431-6216 or at the door.
About the KSO:
The Kentucky Symphony Orchestra takes the "phony" out of symphony through live thematic concerts that culturally enrich, educate and entertain the residents of Northern Kentucky and Greater Cincinnati. The KSO performs throughout Northern Kentucky performing three series of concerts, for the schools, in the parks and various indoor venues.