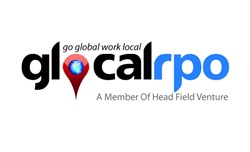 Hiring the Right Talents Made Easy by Glocal RPO
Wilmington, DE (PRWEB) November 07, 2013
A new level of sophistication in the Indian recruitment process outsourcing horizon.
India's leading RPO company Head Field launches its sister concern Glocal RPO to facilitate maximum companies worldwide and making the process easy to hire the right talents.
If top notch talents who are performers are the soul of a flourishing company, recruiters who have recruited them are the heart. Skills and expertise of the recruiters, strategies and technology processes followed hold colossal significance. Glocal RPO banks upon these strengths to revolutionize the RPO industry.
"A robust infrastructure and quality team have been the chauffeurs of growth for Head Field. We have followed the same model for Glocal RPO. Currently, Glocal RPO is poised to take the lead in this industry with staff strength of 200 recruiters backed by state-of-the-art infrastructure. Our objective is to facilitate maximum companies worldwide hire the right talents," says Mr. Kunal Jaggi, CEO and Founder of Glocal RPO.
Currently, the size of the RPO industry is projected at $5 billion. It is anticipated to grow. Glocal RPO is all set to exhibit a new level of sophistication in this industry, significantly enhancing recruiting efficiencies of partner agencies.
"Positions should be filled with quality people that stick. Their retention over time is equally important and this is again a challenge for the recruitment process outsourcing industry," says Mr. Kunal Jaggi, a young entrepreneur, who is backed by over half a decade of experience in the RPO industry.
Staffing organizations from USA in particular and the UK, UAE, and Australia in general, have already signed partnership deals with the firm for outsourcing requirement. The Glocal RPO team of experts comprises of recruiters, sourcers, business development managers, and job search agents. IT, VMS, permanent and contract staffing are the areas that the firm specializes in.
Staffing agencies and corporate organizations partnering with Glocal RPO for outsourcing requirement can look forward towards availing the following benefits:

Get a ready state-of-the-art office in India with no involvement of big investments
Stay away from legal hassles involved in expanding in India
Get a ready trained team of recruiting experts, who works as an extension of onsite team according to latter's time zone
Team holds complete responsibility and accountability of every assignment
Save on operational costs, time, and enjoy maximum return on investment.
Visit http://www.glocalrpo.com to know more about Glocal RPO.