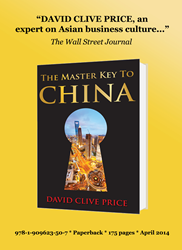 We are on the cusp of a massive movement in the world's educational tectonic plates.
London, UK (PRWEB UK) 30 April 2014
"East and West are converging," says David Clive Price. "Young leaders fuelled by international ambition are remaining in the embrace of their ever more sophisticated homelands, particularly the students of dynamic economies like those of ASEAN. Many such MBA students are 'going global but staying local' within their own country's borders."
According to a report by the Boston Consulting Group, nearly 100 million people will enter the consumer class (annual income of more than $5,000) by 2015 in the six Southeast Asian countries of Indonesia, Malaysia, the Philippines, Singapore, Thailand and Vietnam. (1)
This rapidly growing middle class will swell the ranks of a new segment of students who are willing to pay for a global educational experience while staying in their home country or region.
Many 'glocals'– students with global aspirations and local Asia Pacific roots – are seeking transnational education even though they are based in a different country to the degree-awarding institution such as those of Oxford and Cambridge.
Universities from within the region and around the world are establishing campuses, usually in the form of joint ventures, in these ASEAN markets. At the same time, business schools such as the Cheung Kong Graduate Business School in the UK are offering MBAs in China business.
"The glocalization of education has significant implications for the future of international business," says Doctor Price. "As East and West continue to converge, knowledge of Asian cultures such as those of ASEAN and China will become essential for international business. Asian students will become the international leaders of tomorrow, rooted in their own background while being global or transnational in their outlook."
Price foresees a gradual reversion of the current trend of mass student emigration from Asia into countries like the UK and US. He believes this migration will reverse, sweeping many of the indigenous UK and US students as well as 'glocal' Asians back to Asia's cities and provinces.
"We are on the cusp of a massive movement in the world's educational tectonic plates. Countries like the USA and the UK will not only pivot to the East, they will also learn new cultural skills, absorb unfamiliar ways of thinking and internationalise their own cultures to keep up."
According to Price, this development has profound implications for both the economies and educational aspirations of the developed Western countries, which up until now have regarded themselves as the inevitable magnet for talent and skills from Asia Pacific.
(1) "Point of No Return", Southeast Asia Globe, 6 March 2014
About David Clive Price
With 25 years' experience of Asia business, David Clive Price helps Western companies, SMEs and entrepreneurs to launch and expand in Asian markets. His International Business Passport consulting packages and bestselling Master Key Series offer proven strategies for building profitable partnerships and gaining competitive advantage.
Media Contact Info
David Clive Price
david(at)davidcliveprice(dot)com
Location: London, UK