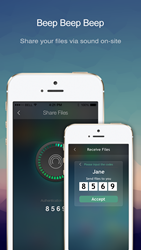 iFileBox, for all your files on iOS devices.
Hangzhou, China (PRWEB) August 04, 2014
Glority today announced that their first file utility app, iFileBox, is now available exclusively for iPhone and iPod touch on Apple App Store. iFileBox is a file management tool that manages local and cloud files on iOS device, shares files to others through multiple ways, including the new technology - sound. Check out YouTube video at http://youtu.be/VzOFIemFdnY
With the design of navigation drawer and powerful file management features, iFileBox makes it easier than ever to navigate, copy, move, rename, delete, zip and unzip files. The build-in file reader opens most common file types including: iWork, Microsite Office, PDF, photos, video, music, text files, and more. The unzip feature handles major compressed file types, including .ZIP, .RAR, .7Z, .LHA with a tap, gives the feel like accessing on a local folder.
iFileBox works like a cloud storage client, offers direct integration with Dropbox and Google Drive. It connects to Dropbox and Google Drive accounts directly, along with necessary copy, move, rename, delete, zip and unzip features on cloud files. Just like working on a local directory.
iFileBox uses a new technology, sound, to share files between iOS devices. It "sings" files through build-in speaker on provider device, and it "hears" files through microphone on recipient device. This file sharing requires a network environment on both file provider and recipient device. The independence of the essential technology gives the high expansibility to share files cross platforms, iOS and Android.
Join the Conversation
Visit iFileBox website for more information, including video and user guide. Connect with iFileBox on Facebook at https://www.facebook.com/Glority.iFileBox or follow Twitter updates @iFileBoxGlority
About Glority:
Glority Software focuses on delivering real business value to customers with high quality, fast cycle, and significant cost reduction, building large-scale enterprise software and Internet applications with 100% customer success.