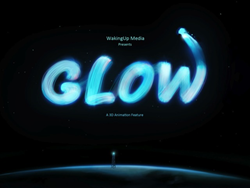 Kickstarter gives us a chance to develop a community of GLOWERS, and it gives us the unique opportunity to make them a part of the feature in exchange for their support.
Los Angeles, CA (PRWEB) May 28, 2014
Independent Film Producer Patrick Cheh's 3D Animated feature project, GLOW, launched on Kickstarter today, offering rewards such as artwork, animated drawings, and even several chances to be a part of the feature in return for monetary support. Cheh plans to use this Kickstarter to secure the support necessary to get GLOW picked up by a large studio or financier.
"We've already started to see a lot of support, and people understand the importance of GLOW," said Cheh. "This feature is a heartwarming tale of a boy named Aion with the greatest power of all: a glowing heart full of love. Who could resist falling in love with such a powerful concept?"
GLOW's storyline is a powerful one that every person can relate to, and one that captures people by the heart. Aion is a 16-year-old orphan who discovers his heart can glow in a chance meeting with the lovely Nanda. Freaked out and confused after discovering his supernatural ability, Aion discovers he is destined to save the land of Midaya. He goes on a journey to the land of Dresma, a hidden realm of enchanting power, where he will discover that he can only bring balance to the world when he learns to rekindle his glowing heart.
Cheh and his team have been working on the GLOW story and visuals for the past four years, and they have poured in their time to nurture and grow the feature into what it is today. With enchanting visuals, action, suspense, and a hero audiences will love, the feature is ready to move to the next level. Although studios and financiers love the idea of GLOW, they aren't willing to take a gamble on an unknown property that isn't proven or part of an existing franchise. This Kickstarter is about raising the necessary funds and support to show that GLOW is a concept that is needed and loved.
"My partners and I have poured so much time, energy, and money into this concept that we believe in it with all our hearts," said Cheh. "But, we've come to the end of the road financially. Kickstarter gives us a chance to develop a community of GLOWERS, and it gives us the unique opportunity to make them a part of the feature in exchange for their support."
With a $125,000 funding goal, the project is now live, and those interested can visit the campaign at http://bit.ly/GLOWmovieKS to back the campaign in exchange for their choice of several exciting GLOW-themed rewards. For the early bird special of $20, backers can pre-order a digital download of GLOW. Once the early bird special runs out, the digital download will cost $25. Several packages of GLOW artwork, posters, and collector's pitch books are also available. For real animation enthusiasts, the Kickstarter offers several opportunities to be a part of the action, such as a one-month internship, a day at the studio, a chance to be featured in the credits, and a chance to do a character voice-over.
In addition to backing the campaign, be sure to like GLOW on Facebook and follow on Twitter @theGLOWmovie to stay up to date with the project.
About WakingUp Media
Patrick Cheh has served as co-founder and CEO of Interlight Pictures, one of Hollywood's leading independent film production and international distribution companies. While at Interlight Pictures, 1994 – 2001, Patrick financed and produced eleven independent feature films, with total budget of approximately $100 million dollars, which have been successfully distributed throughout the world. One of eleven films, The Watcher starring Keanu Reeves, went on to become number one at the U.S. box office for two consecutive weeks. The film grossed over $75 million in theatrical and video in the States. For more information about GLOW and WakingUp Media, visit http://www.glowyourheart.com.