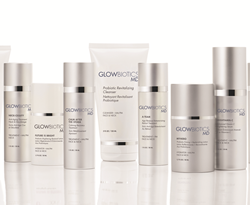 Phoenix, AZ (PRWEB) September 20, 2016
Probiotics have been hailed as one of the "best beauty breakthroughs" by the American Academy of Dermatology for their profound effects on the skin. Just like probiotics rebuild immunity on the inside, their skin-enhancing molecules boost immunity on the outside, targeting each layer of the skin for the highest levels of prevention, repair and protection.
Over the years, mybody has gained a cult following of skin-savvy consumers, and is currently carried in over 1,000 doctors' offices across the country and internationally. As the industry has evolved, so has the mybody brand and the questions about the relevance of its name. In an effort to listen to their loyal fans, the decision was made to rebrand and rename the probiotic skincare range. As of September 2016, mybody changed its name to GLOWBIOTICS MD.
The decision to make the change came about after the successful launch of the GLOWBIOTICS franchise featuring their highly-coveted Probiotic Instant Resurfacing Pads and Probiotic HydraGlow Cream Oil. "It was our best launch in the history of the company and I knew we were on to something that both doctors and patients would be excited about. We realized the name mybody didn't properly reflect what our cutting-edge skincare products can do for your skin. As the pioneer of medical-grade topical probiotic solutions, we wanted our name to accurately represent our unique formulas and complexes that were created specifically to address and improve a variety of skin concerns that result in a glowing, youthful complexion," says Christine Watson, Founder and CEO of GLOWBIOTICS MD. "We feel as though our new name now accurately represents what our probiotic formulas do."
Current fans, including physicians and their patients, can still find their favorite skincare products from the brand because their revolutionary and effective formulations will stay the same, just the packaging and the logo will be getting a bit of a facelift. The items are now available for sale in physician offices worldwide and online at http://www.GlowbioticsMD.com
About GLOWBIOTICS MD
GLOWBIOTICS MD bridges the gap between science backed skincare and skincare with an incredibly high safety profile. Harnessing the power of immune boosting probiotics that work in concert with targeted bio-actives to support cellular regeneration without irritation, GLOWBIOTICS MD products re-awaken youthful processes within the skin that slow down with age. GLOWBIOTICS MD effectively treats all skin types, conditions and concerns with synergistic systems that begin to immediately turn around the pathways to unhealthy skin. Designed for all skin types and skin concerns, GLOWBIOTICS MD is the professional skin care line that is revolutionizing skin health in a dramatic way. They are a cruelty-free company that strives to source responsibly to create products that are free of any known phthalates, sulfates, FD&C dyes, parabens and mineral oil. The company also donates 1% of sales to mental health charities, as they not only want people to look good, but also feel good from the inside out.